Moana Is Crushing In Hawaii, Which Has Made It Really Hard To Get Tickets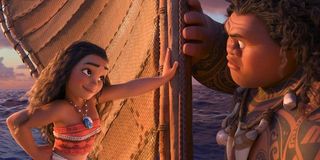 While Disney will no doubt be delighted that Moana is currently dominating the box office, its success has raised a slight problem in the state of Hawaii where tickets are selling out like proverbial hot cakes. So much so, in fact, that plenty of patrons have been left disappointed by their inability to get their hands on tickets, with screenings repeatedly selling out for the entire day. In fact, some people have even admitted that they're contemplating heading to the mainland just so they can watch it.
Despite just hitting cinemas on Wednesday, November 23, Moana has already grossed $98.2 million. But Moana's popularity in Hawaii has caused quite the stir, as evidenced by the below tweet from user kylorsparks, which shows exactly how hard it is to get into a screening for the film, making the rounds online shortly after it was posted.
This isn't the only tale of woe from a potential Moana viewer, as user kristianines admitted that he was contemplating traveling all the way to the mainland just so he can see Disney's latest animated adventure in all of its glory.
Moana is so preposterously in demand over in Hawaii because it follows a Polynesian heroine that seeks the help of the demigod Maui so that she can sail the ocean and save her people. But it's not just Moana's plot and characters that have proven to be so alluring for Hawaiian audiences, because it also helps that its two lead actors, Auli'i Cravalho and Dwayne Johnson, are both natives of the island, and clearly locals have gone out in force to lend their support to the pair.
As well as grossing in an already healthy sum, Moana has yet again proven to be another critical darling for Disney, as it currently holds a score of 98% on Rotten Tomatoes. Those of you that are still on the fence about whether or not to see it can watch the trailer for Moana below to instantly become convinced.
Rather excitingly for Disney, Moana has a pretty clear path for the next few weeks, too, as Sing is the only other animated family film that will threaten its dominance between now and the end of the year, and even that's not due out until December 21.
Your Daily Blend of Entertainment News