The Godzilla Easter Egg Star Wars: Rogue One Snuck In For Gareth Edwards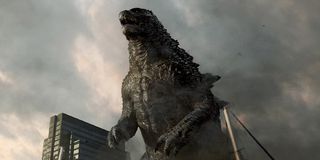 Gareth Edwards is primarily known nowadays as the director of the upcoming Rogue One: A Star Wars Story, but just two years ago, he exploded onto the Hollywood blockbuster scene as the man who helmed the Godzilla reboot. His work on the giant monster's return to U.S. theaters after 16 years is surely what got Lucasfilm's attention and eventually resulted in him earning the Rogue One directing gig. Even though this movie, like every Star Wars movie, takes place in a galaxy far, far away, the crew was able to sneak in a fun Godzilla Easter egg, one which Edwards himself didn't even know about until shooting.
During a visit to The Star Wars Show, Gareth Edwards mentioned (around the 5:20 mark) that there are some paintings in the movie referring to Godzilla and his 2010 movie Monsters. He then added that he didn't deliberately add those himself. As he put it:
In most of the Rogue One previews released, Saw Gerrera, played by Forest Whitaker, is seen hanging out in his humble cave abode. The man has spent decades embroiled in conflict, namely the Clone Wars and the Galactic Civil War, so he needs a place to kick back in his older years. Evidently his home also has some sketching of the monsters that were seen in the most recent Godzilla movie. For those who didn't see that blockbuster or need a refresher, the fire-breathing battled the MUTOs (Massive Unidentified Terrestrial Organism) seen below, and as per usual, he came out on top. Evidently their ancestors were known in the Star Wars universe, and either Saw Gerrera or one of his cave's previous tenants memorialized them on that cave wall.
I suspect that it will be difficult to spot the Godzilla and Monsters Easter eggs while seeing Rogue One in theaters, but finding them will make for one heck of a hunt when the movie is released on home media. This is reminiscent of how Indiana Jones and the Raiders of the Lost Ark showed C-3PO and R2-D2 as hieroglyphics while the eponymous hero was in the Well of Souls. Sneaking in those cave drawings is a cool way to call back to Gareth Edwards' previous projects without distracting from the story, and it's even funnier that it was done without his involvement.
Rogue One: A Star Wars Story will be released in theaters on December 16, and hopefully there will be more Easter Eggs sprinkled throughout.
Connoisseur of Marvel, DC, Star Wars, John Wick, MonsterVerse and Doctor Who lore. He's aware he looks like Harry Potter and Clark Kent.
Your Daily Blend of Entertainment News
Thank you for signing up to CinemaBlend. You will receive a verification email shortly.
There was a problem. Please refresh the page and try again.