MoviePass Has A Great Plan To Lure Millennials Back To Movie Theaters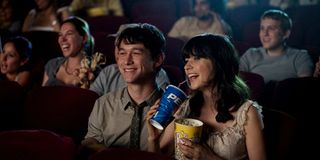 The ways in which we consume movies at home have changed significantly over the years, but the theater hasn't changed as rapidly. Movie theaters have basically used the same business model (one ticket per attendee) since the advent of the silver screen, and in the face of potential attendance stagnation, some people have started to see newfound opportunities for innovation. In fact, in an effort to get more millennials back to the movies, MoviePass has announced a newly discounted subscription service that will allow users to see 30 movies a month for the low price of $10. Mitch Lowe, the service's CEO, explained:
MoviePass' Mitch Lowe (who also helped found Redbox and Netflix) recently spoke to THR and explained the importance of creating a system that will get millennial audiences back to movie theaters. The service has teamed up with the Studio Movie Grill theater chain for a promotion in which a $10 subscription purchase will allow a subscriber to see 30 movies in a single month -- an 80% cut from the typical $50 for MoviePass' services -- if they happen to live near an existing Stujdio Movie Grill location. By implementing this business model and making it affordable, Lowe insists that it will actually allow exhibitors and studios to market their films better, and the rising tide will raise all ships.
This promotion isn't universal just yet. As of right now the offer is valid at any of the 24 Studio Movie Grill theaters located across 10 states. However, if the venture is successful, we could easily see it branch out to other national theater chains in order to expand MoviePass' current base of 20,000 subscribers. Mitch Lowe seems confident in the model's potential, so it will be an exciting development to watch as time goes by.
This is far from the first time that movie theaters have tried new methods of driving attendance. Over the course of the last few years, we have seen a total boom in the amenities and services offered by a variety of different theater chains. These changes include a surge in the number of 3D movies shown on the silver screen, to reclining seats, and even waiter service at some select movie theater locations. In the face of potentially waning attendance, MoviePass seems like it could be the next big step in the evolution of the theater model.
What do you think of this movie theater subscription service? Is it something you're interested in using, or do you like the traditional ticket purchase method? Let us know what you think in the comments section below to keep this conversation going!
Originally from Connecticut, Conner grew up in San Diego and graduated from Chapman University in 2014. He now lives in Los Angeles working in and around the entertainment industry and can mostly be found binging horror movies and chugging coffee.