So, The CHiPs Reboot Is Going To Be Rated R Because Of A Ton Of Nudity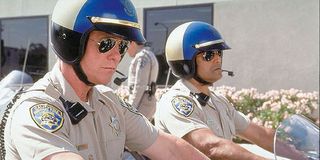 After the success of the 21 Jump Street franchise, studios have been on the look out for intellectual properties that they can mould and adapt for a modern audience in an irreverent and comic fashion. Next on the list is the reboot of CHiPs, the 1970s television drama about California Highway Patrolmen who rode around on humungous motorbikes. Michael Pena and Dax Shepard are stepping into the roles made iconic by Erik Estrada and Larry Wilcox, respectively, but they're taking CHiPs in a much raunchier direction.
During a recent discussion with Entertainment Weekly regarding CHiPs, Dax Shepard, who is writing, directing, and starring in the buddy cop action comedy for Warner Bros, admitted that the film is going to have an R-rating. But while that gives them free license to add some expletives to the film, Shepard admitted that it's mostly because of the amount of nudity. Dax Shepard explained:
CHiPs revolves around Officer Jon Baker (Dax Shepard) and Officer Frank 'Ponch' Poncherello (Michael Pena), two middle-aged Los Angeles motorcycle officers. They find themselves embroiled in chaos when Vic Brown (Vincent D'Onofrio), a former LAPD cop that was kicked off the force and is now the leader of a group that steals cars, starts wreaking havoc across the city. As well as the above trio, CHiPs is also going to star Adam Brody, Rosa Salazar, Kristen Bell, and Jane Kaczmarek.
During his discussion with Entertainment Weekly, Dax Shepard insisted that he wants the movie version of CHiPs to be akin to both Bad Boys and Lethal Weapon, as he explained that the comedy in the film comes from a very real place, where the stakes are palpable. Shepard even provided more information on his characters, explaining that he's playing a former games writer that decides to try and woo back his wife by joining the California Highway Patrol.
Meanwhile, Michael Pena portrays an FBI agent that's asked to go undercover within the CHP so that they can figure out which cops are dirty. Together, the pair begin to investigate a number of armored car robberies, which sees them roaming around Los Angeles looking for evidence.
We'll get to see Dax Shepard's version of CHiPs when it's released on March 24, 2017.
Your Daily Blend of Entertainment News
Thank you for signing up to CinemaBlend. You will receive a verification email shortly.
There was a problem. Please refresh the page and try again.