Who Jason Momoa's Favorite Justice League Co-Star Is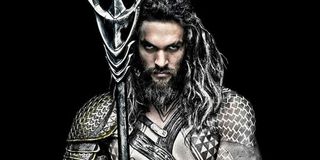 The Justice League members are going to have to spend quite a lot of time together over the next few years. Following the antics of Batman v Superman: Dawn Of Justice, Ben Affleck's Batman has decided to bring together Wonder Woman (Gal Gadot), Aquaman (Jason Momoa), The Flash (Ezra Miller), Cyborg (Ray Fisher) and maybe Superman (Henry Cavill) to try and keep the Earth safe. Along the way, there are bound to be a few arguments and quarrels. But it doesn't sound like Aquaman and The Flash get into many disputes, as Jason Momoa has now revealed that his favorite co-star from the Justice League is Ezra Miller.
Jason Momoa made this admission to The Hollywood Reporter, who quizzed the actor about his role as the nautical superhero in the DC Extended Universe. When he was asked to pick out his favorite superhero from the Justice League, Jason Momoa didn't miss a beat by revealing that he's clearly formed quite a bond with Ezra Miller. Jason Momoa responded to the question with,
While we've only been privy to Jason Momoa's Aquaman in the trailers for the Justice League and that brief Batman v Superman: Dawn Of Justice cameo, The Flash has had a little more screen time in the DC Extended Universe. First the Scarlet Speedster appeared both in a dream sequence and on security footage during Batman v Superman, and then he popped up in Suicide Squad, too, where he was seen thwarting Captain Boomerang (Jai Courtney).
But we still haven't seen Jason Momoa's Aquaman and Ezra Miller's Flash share the silver screen, together. Fortunately, we don't have as long to wait for that to happen, as Justice League will be with us in just over 10 months time. Those of you that are fervently waiting for the blockbuster can whet your appetite even further by checking out the trailer for the Justice League below.
You can also check out Jason Momoa's chat with The Hollywood Reporter regarding the Justice League and his thoughts on his co-star below, too.
Justice League will finally be with us on November 17, 2017, and it will be preceded by Wonder Woman on June 2, 2017. Aquaman's solo outing is scheduled for October 5, 2018.
Your Daily Blend of Entertainment News
Your Daily Blend of Entertainment News
Thank you for signing up to CinemaBlend. You will receive a verification email shortly.
There was a problem. Please refresh the page and try again.