See Margot Robbie Looking Transformed As Tonya Harding In New Photos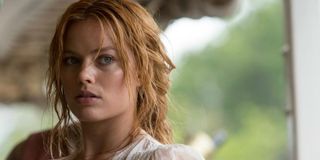 I, Tonya is set to be Margot Robbie's first proper attempt at awards season glory. Based on the controversial antics of disgraced ice-skater Tonya Harding, the biopic will be looking to give us a definitive breakdown of her scandal with Nancy Kerrigan, and in order to do the character justice, Margot Robbie has undergone quite the transformation. You can see the very first peak of Margot Robbie as Tonya Harding by checking out pictures of the Australian actress heading on to set below. Warning: It's very, very 90s, and there's even an ugly sweater and very high waisted pants involved.
It's not surprising that Margot Robbie has signed up for the role of Tonya Harding, as it's ripe with conflict, surprise and melodrama. Undoubtedly, I, Tonya will look to build to Tonya Harding's most famous moment, which involved Nancy Kerrigan being attacked just before the 1994 Olympic Games. It ultimately transpired that Tonya Harding's ex husband Jeff Gillooly and bodyguard Shawn Eckhardt had hired Shane Stant, a hit-man, to try and break Nancy Kerrigan's leg so that she couldn't perform at the event in Lillehammer, and that Harding had been involved.
The plan didn't really go so smoothly, though. That's because Shane Stant didn't actually break Nancy Kerrigan's leg, and instead she just suffered a severe bruise. Nancy Kerrigan recovered in time for the Olympics and won the silver medal, while Tonya Harding finished in eighth place. Clearly Tonya Harding had some other things on her mind during her performance, as she broke down in tears because of her shoelace. We've all been there.
I, Tonya has been slowly building a rather impressive cast and crew ever since Margot Robbie was brought on board for the film. Steven Rogers, who previously scribed Stepmom, Kate & Leopold, P.S. I Love You and Love The Coopers, has written the film, while Australian director Craig Gillespie will oversee it. Gillespie has previously directed Lars And The Real Girl, Fright Night, Million Dollar Arm and The Finest Hours.
Having starred in the gymnastic comedy The Bronze in 2015, Sebastian Stan is now approaching the sport of figure skating. But his portrayal of Jeff Gillooly in I, Tonya will undoubtedly be much more dramatic this time around. Meanwhile, two-time Emmy award winner Allison Janney (Masters Of Sex and Mom) will play Tonya Harding's mother LaVona Golden. We're still not exactly sure when I, Tonya will be released, but there's every chance it will be with us in the winter of 2017/2018.
Your Daily Blend of Entertainment News
Your Daily Blend of Entertainment News
Thank you for signing up to CinemaBlend. You will receive a verification email shortly.
There was a problem. Please refresh the page and try again.