The Funny Way Sean Gunn Teased Marvel Fans From The Set Of Avengers: Infinity War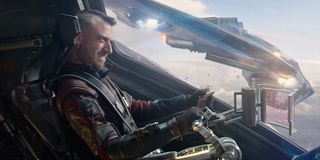 Avengers: Infinity War is still over a year away from release, but production on the epic blockbuster and Avengers 4 (which arrives a year later) kicked off yesterday. Marvel actors are trickling into Pinewood Studios in Atlanta, Georgia, including Sean Gunn, brother of director James Gunn and Guardians of the Galaxy actor. Well, he didn't exactly say he was working on Avengers: Infinity War, but he did provide some subtle and amusing hints about it.
Rather than outright proclaim that he's working on Avengers: Infinity War, Sean Gunn chose to instead refer to it simply as his new project on Instagram. Fortunately, he just happened to be holding an Avengers mug and wearing an Infinity War hat when he uploaded the post, and through deductive reasoning, we've concluded that this new project of his is the third Avengers installment. We've cracked the case! By the way, I hope that mug and hat go on sale closer to Avengers: Infinity War's release date. It's also worth noting that this will be the first Marvel movie where Gunn is not being directed by his brother James, as Captain America: Civil War directors Joe and Anthony Russo are leading the charge for the Infinity War.
Sean Gunn has been an important contributor to the Marvel Cinematic Universe in two ways. The first is standing in for Rocket Raccoon when the Guardians of the Galaxy movies are shooting, while Bradley Cooper later voices the character for the final product. Second, Gunn plays Kraglin, the second-in-command of Yondu, captain of the Ravagers. Since the Guardians of the Galaxy are already confirmed to appear in Avengers: Infinity War, it's plausible that Gunn might continue to fill in for Rocket during principal photography. However, there's also a distinct possibility that Kraglin will find himself drawn into the explosive events surrounding Thanos next year. If that's the case, then it looks like we won't have to worry about him meeting his demise in Guardians of the Galaxy Vol. 2.
Plot details surrounding Avengers: Infinity War are scarce, but after years of sitting on his La-Z-Boy space throne and intimidating others into doing his dirty work, Thanos will finally come to Earth in search of the Infinity Stones. It will take nearly every Marvel hero, both on our world and from other parts of the galaxy, to stop him. I can't imagine Kraglin or any of the other Ravagers would went to get in on that battle, but maybe even the space pirates will be forced to participate with all of existence at stake.
Avengers: Infinity War will be released in theaters on May 4, 2018, but you can see Sean Gunn back in the MCU sooner than that when Guardians of the Galaxy Vol. 2 is released on May 5.
Connoisseur of Marvel, DC, Star Wars, John Wick, MonsterVerse and Doctor Who lore. He's aware he looks like Harry Potter and Clark Kent.
Your Daily Blend of Entertainment News
Thank you for signing up to CinemaBlend. You will receive a verification email shortly.
There was a problem. Please refresh the page and try again.