Spider-Man: Homecoming Toys Give Fans Better Look At Vulture, Spidey's Homemade Suit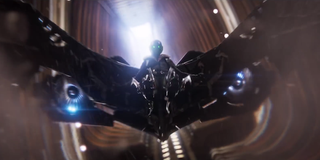 After making an impressive MCU debut in Captain America: Civil War last May, Tom Holland's Peter Parker will snag the spotlight for himself in Spider-Man: Homecoming. Thanks to reports, images and the first two trailers, we have a basic idea of what the teenaged superhero will be doing in his solo adventure, but there's still plenty that's understandably being kept secret. However, even before the movie is out, kids and older fans will be able to take part in the Spider-Man: Homecoming fun on their own with the toys.
Earlier today, Hasbro (opens in new tab) dropped first looks at some of the Spider-Man: Homecoming toys that will be released later this year, including a Spider-Racer vehicle (surely inspired by the Spider-Mobile) and play sets. Those were fine, but what caught our eye is some of the action figures that will be hitting shelves. Let's start with Spider-Man rocking his classic look.
Spider-Man
Thanks to Tony Stark's generosity in Captain America: Civil War, Peter Parker is now fighting crime in a costume that not only closely resembles his comic book counterpart, but also has a lot more technological goodies built in it. Even though we've seen this suit plenty of times already in Civil War and the Spider-Man: Homecoming trailers, it's still cool to see Peter's duds up close in toy form. The action figure on the left shows Spidey how we're used to seeing him in some of his more hectic high school days: shooting webs with a backpack on. I imagine that Peter is on his way to school when he runs into some trouble, and once the bad guys are dealt with, he'll change into his civilian clothes. The action figure on the right, though, is something that you'll strictly have to craft a scenario for using your imagination. Sorry, folks, but I highly doubt Tony will give Peter a giant arm cannon to use against Vulture in the movie. Speaking of that winged menace...
Vulture
As it often the case with movie adaptations of comic book costumes, Vulture doesn't look quite like Adrian Toomes from the printed page. The green color scheme is the same, but it looks more mechanical and crafted with unusual technology. That said, the Vulture suit Michael Keaton wears in Spider-Man: Homecoming and the toys you see above have their own differences as well. For instance, Keaton's Vulture mask has glowing green eyes, whereas toy Vulture looks like he's wearing a customized fighter pilot helmet. The toy suit itself also has more brown and silver, but at least the fur around the neck is still there. If the visual differences are bugging you, just think of this Vulture as one of Adrian Toomes' goons: they have the same wings, but their suit doesn't have as much flair.
Homemade Suit-Spidey
Before meeting Tony Stark, Peter Parker was making due with clothing and pieces of technology he found laying around or that came cheap. The result is what you see above, and in Captain America: Civil War, we saw a brief YouTube clip of Peter in his more primitive get-up as he stopped a car crash. It's unclear if we'll see flashbacks to this time of Peter's life in Spider-Man: Homecoming, but if you want to act out some moments from Peter's earliest months of crimefighting and keeping the citizens of Queens safe, you'll want this action figure.
Your Daily Blend of Entertainment News
Connoisseur of Marvel, DC, Star Wars, John Wick, MonsterVerse and Doctor Who lore. He's aware he looks like Harry Potter and Clark Kent.
Your Daily Blend of Entertainment News
Thank you for signing up to CinemaBlend. You will receive a verification email shortly.
There was a problem. Please refresh the page and try again.