How Kong: Skull Island Is Connected To Godzilla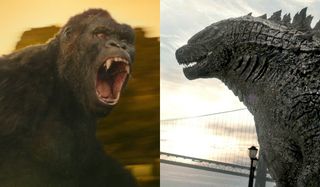 If you've paid any attention to the Comic-Con announcements and developments from Legendary Pictures and Warner Bros., then you probably know Kong: Skull Island resides within the same cinematic universe as 2014's Godzilla. The studios announced the film would be followed by Godzilla 2 in 2018 (now titled Godzilla: King of the Monsters) and Godzilla vs. Kong in 2020. But there will be a more specific connective tissue to this larger scheme in Jordan Vogt-Roberts' film: Monarch.
Remember that secret scientific government organization in Godzilla that knew a lot more about the eponymous monolith than Aaron Taylor-Johnson and Bryan Cranston? That's because they've had firsthand experience with his primate predecessor.
In the upcoming Kong: Skull Island, Tom Hiddleston portrays Conrad, a tracker and former British Special Air Service soldier hired to assist the Skull Island expedition crew towards the end of the Vietnam War in the 1970s. As producer Alex Garcia explained to CinemaBlend during a recent set visit, he comes into contact with "a team of Monarch operatives," described as "a shadowy presence in the movie, who sort of jumpstart this expedition."
Garcia continued:
Garcia also confirmed that "Godzilla is not emerged into the modern world" at this point in the cinematic timeline, "so this is very much just Kong's story."
Hiddleston confirmed that John Goodman plays Bill Randa, and even though Conrad finds his request "officially shady," he is "a man without a mission." Hiddleston further explained:
Kong: Skull Island also stars Brie Larson as a war photographer named Weaver, who senses there's more to this expedition than what the crew is letting on. Samuel L. Jackson, John C. Reilly, Toby Kebbell, Corey Hawkins, and Jason Mitchell help round out the cast.
Fans may spot Easter eggs to classic elements of previous Kong movies or even Godzilla, but beyond the presence of Monarch, Garcia said they're not too focused on teasing things to come. Garcia explains:
However, the producer did acknowledge Kong's size: "Remember this movie is set in the '70s. Godzilla was set in 2000, so there is a lot of time to go before he'd be ready to face off."
Kong: Skull Island will open in theaters on March 10.
Your Daily Blend of Entertainment News