PT Anderson And Daniel Day-Lewis Are Making A Movie Together, So Get Out Your Oscars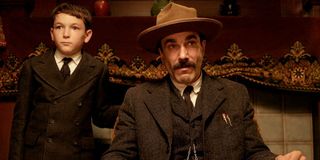 When it's announced that Paul Thomas Anderson is working on a brand new film, any movie fan worth their salt immediately becomes a little intrigued and excited. But there's another reason to instantly anticipate the lauded director's next project. That's because he's re-teaming with Daniel Day-Lewis, and the first details of their next cinematic delight have now been released.
As of yet, we're still waiting on an actual title for the film, but a press release for P.T. Anderson and Daniel Day Lewis' effort has confirmed that production has already begun in the United Kingdom, while also revealing that they duo will "explore a distinctive milieu of the 20th Century." What does that specifically entail? I'll let the press release explain:
The crew working alongside P.T. Anderson is littered with award winners, which suggests that his next project will be right in the hunt for accolades when it's finally released. We're hoping that will be in time for the 2018 Oscars. Anderson is working on the eighth consecutive film in a row with costume designer Mark Bridges, who previously won the Academy Award for _The Artist. _
The duo will be joined by production designer Mark Tildesley, set decorator Veronique Melery, editor Dylan Tichenor, and, arguably most excitingly of all, composer and Radioheader Jonny Greenwood. Each of these individuals have previously worked on four films with Paul Thomas Anderson, while they have Emmys, BAFTAs and Academy Awards (or at least nominations) to prove that they're rather good at their jobs, too.
Lesley Manville (Another Year) and Vicky Krieps (A Most Wanted Man, Hanna) will look to wrestle screen time from Daniel Day-Lewis. His reunion with Paul Thomas Anderson is what makes this particular project just so alluring, especially considering their last effort together was so successful.
Released in 2007, There Will Be Blood didn't just receive eight Academy Award nominations, one of which was picked up by Daniel Day-Lewis for Best Actor, but it was also lauded so much that it's widely regarded as one of the greatest films of the 21st century, if not of all time. It also produced scenes like this, which immediately showcase why it's so cherished.
Other than that, Daniel Day-Lewis has picked up two other Oscars for My Left Foot and Lincoln, which was the last film that he starred in, while Paul Thomas Anderson's past films have included Boogie Nights, Punch Drunk Love, The Master and Inherent Vice, all of which are borderline genius. So basically, yeah, it's time to get very excited about this one.
Your Daily Blend of Entertainment News
Thank you for signing up to CinemaBlend. You will receive a verification email shortly.
There was a problem. Please refresh the page and try again.