Stephen King's It Already Planning A Sequel, Which Makes Sense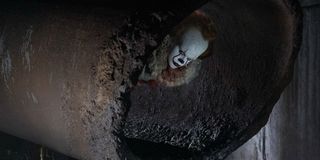 Both Stephen King's 1986 novel It and the 1990 ABC mini-series of the same name split their time between the 1950s and then the 1980s. It now sounds as though the upcoming feature film adaptation won't follow the same course, though. Instead Andres Muschietti's It will be set purely in the 1980s this time around, while its now been teased that a potential sequel will unfold thirty years later.
Producer Dan Lin made this revelation to Collider during a recent interview to promote The Lego Movie Batman, which he also produced. Lin confirmed to the website that It will focus on the kids in The Losers' Club trying to deal with Pennywise. A sequel will then be set thirty years later and revolve around The Losers' Club when they're adults, and the return of Pennywise. Of course, that will all depend on the success of the initial It, though.
It appears as though a decision was made early on that going back to the 1950s for 2017's It would be a bit too much, which is why the horror will see Pennywise The Dancing Clown terrorizing children in the 1980s. Makes sense.
Producer Dan Lin has already spoken about just how important the setting of the 1980s will be for It, even comparing their approach to the Netflix behemoth Stranger Things. Dan Lin remarked back in August:
Getting Pennywise The Clown just right is integral to the success of It. Not just because of how Stephen King wrote the character, but because of Tim Curry's mesmeric and iconic portrayal as the terrifying demon in 1990's It. Take a peak at the original trailer for It below to see Tim Curry as his petrifying best below
Bill Skarsgard is the actor tasked with trying to match Tim Curry's Pennywise. And while they're clearly big shoes to fill, especially because the character is a clown, the first images of Skarsgard's version of It suggest that he's been able to rise to the occasion.
Of course, we won't really get a proper taste of Skarsgard's Pennywise until we get the trailer for It. While we'll be able to fully judge and analyze his performance once It is released on September 8, 2017, which is around the time we'll find out if it's touted sequel will be officially be greenlit, too.
Your Daily Blend of Entertainment News
Thank you for signing up to CinemaBlend. You will receive a verification email shortly.
There was a problem. Please refresh the page and try again.