How Star Wars: The Last Jedi May Connect To Boba Fett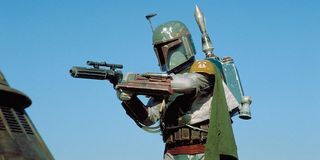 Just like with Star Wars: The Force Awakens, Disney and Lucasfilm are keeping mum about what to expect from Star Wars: The Last Jedi. Aside from a few casting reports and the title announcement, no official information concerning the movie's plot has been disclosed yet. Heck, even the major new characters being introduced haven't been identified yet, including who Sicario's Benicio del Toro is playing. However, there's a rumor floating around that he might be someone related to feared bounty hunter Boba Fett.
In a recent video, YouTuber MIKE ZEROH detailed how recently he noticed that on the Wikiwand website's page for Benicio del Toro's filmography that the actor was listed as playing "Sir Vicrum Fett" in Star Wars: The Last Jedi. That character name was deleted a few days later, with the spot now filled in by "TBA." However, ZEROH provided a screenshot showing that if you type "Vicrum Fett" on Google search, the name is still in the Wikiwand system. Remember, none of this constitutes official information, so take "Vicrum Fett" with a grain of salt for now.
Hearing the name Vicrum Fett might lead many to assume that he is Boba Fett's son, but that's not necessarily the case. Benicio del Toro just turned 49, so let's assume that his character is also around 50. That would mean that he had to have been born around the end of the Prequel Trilogy or during the Empire's earliest years. Boba Fett was only a teenager then, so while it's not impossible he could have had a son then, it doesn't seem likely. If del Toro is indeed playing someone connected to the Fett clan (and again, this is nowhere near confirmed), he's probably a relative of Jango Fett, like a distant cousin.
Before this Vicrum Fett rumor popped up, the biggest unofficial information surrounding Benicio del Toro's Star Wars character was that he was being called the "man in black," called as such for his wardrobe and his temperament. It was also mentioned that he isn't being "treated as a villain" by the main characters, and that he may appear on a casino set. It was also theorized that del Toro's character is an older Ezra Bridger, currently seen as a young man on Star Wars Rebels. Star Wars: The Last Jedi is still 10 months away from a release, so we could still be in for a long wait finding out who del Toro is playing, whether it's a Fett or someone completely unrelated.
The last time we saw Boba Fett in the official Star Wars universe, he had been knocked into the Sarlacc Pit during Return of the Jedi. While the Expanded Universe had Boba escaping the beast, continuing his bounty hunter career and starting a family, it's unclear in the main continuity whether he survived or has been long dead. While the character has popped up in the Star Wars comics over at Marvel, it remains to be seem whether Lucasfilm has any plans for Boba Fett on the big screen or other media. That said, a Boba Fett movie is rumored to be in consideration for the third Star Wars Anthology spinoff.
Star Wars: The Last Jedi will be released in theaters on December 15.
Your Daily Blend of Entertainment News
Connoisseur of Marvel, DC, Star Wars, John Wick, MonsterVerse and Doctor Who lore. He's aware he looks like Harry Potter and Clark Kent.