Every Major Movie Portrayal Of The Joker, Ranked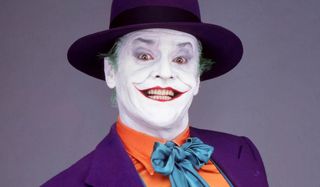 There's arguably no villain more legendary than The Joker in all of pop culture. The evil clown has existed in the realm of DC comic books for decades, and he has continuously popped up to make Batman's life hell for the entirety of his career. He is a character whose comic book history dates back almost a full century, and Zach Galifianakis' recent portrayal of the character in The LEGO Batman Movie hammers home the iconography and history behind this sinister being.
With that in mind, we have decided to take it upon ourselves to go through the major film portrayals of the Clown Prince of Crime and figure out which version of The Joker is the best. There's no definitive way to handle this character, and plenty of performers and filmmakers have tried different approaches over the years. With that in mind, let's kick this list off with the worst (and most recent) portrayal of the iconic villain in a major movie.
6. Jared Leto
I'm not quite sure where to begin with this one because Jared Leto's Joker in Suicide Squad was an absolute let down. There's absolutely no menace to the character, and none of his flamboyance feels backed up by any evil, malice, or insanity. He just seems like somebody took Capt. Jack Sparrow and painted Johnny Depp's rum-obsessed pirate white and green. I'm not sure if it was Leto, David Ayer, or the folks at DC who misunderstood Joker going into Suicide Squad (maybe it's a combination of all three), but the Task Force X team-up movie simply did almost nothing right with him. As of right now, Jared Leto remains the DCEU's resident evil clown, so let's hope this can change by the time he makes his next appearance.
5. Cesar Romero
This entry is where things start to get better. Cesar Romero was a great Joker for the Batman '66 series, and it's a testament to the strength of the performances that followed him that he's ranked No. 5 on this list. Romero gave audiences a more playful Silver Age Joker -- one who felt more likely to spray you with water than acid. He looked the part (even with his unshaved mustache clearly visible under his makeup), but Romero's one major drawback was the fact that he was not a particularly scary Joker. His performance leaned a little bit too heavily into playful territory, and Batman '66 never really embraced the idea that Joker is Batman's arch-nemesis. He was simply one of many rogues The Caped Crusader had to deal with week after week.
4. Zach Galifianakis
Of all the Joker portrayals present on this list, Zach Galifianakis' LEGO Joker is the version of the character who skews towards younger audiences more than any other. Despite that fact, The LEGO Batman Movie still features certain tenets of the character that have failed to show up in more "mature" takes on the villain. Galifianakis' is a playful trickster, but he's also incredibly menacing when he needs to be, and (most importantly) he's genuinely obsessed with The Dark Knight. Although the Baskets star doesn't get to go into territory that's quite as dark as other actors have been able to in previous years, he made the most of the limitations of the material, and I could easily see this Joker popping up again and again as The LEGO Movie franchise progresses.
3. Jack Nicholson
You ever dance with the Devil in the pale moonlight? This is actually where we start to get into the highly debatable territory of who the best portrayal is. Although there may be plenty of detractors out there, Jack Nicholson comes in at a respectable No. 3. His performance in Tim Burton's Batman was revolutionary for comic book movies at the time, and he was the first live-action version of The Joker who had the ability to induce raw terror in audiences while also spouting hilarious one-liners. However, as good as the performance is, it hasn't aged quite as well as others on this list. Beyond that, Nicholson definitely played Joker as a (slightly) more demented version of his personality, so it's hard to justify ranking him any higher on this list.
2. Mark Hamill
Looking at the entirety of his career, there's certainly a strong case to be made that Mark Hamill may be the best Joker of all time. That said, his one major movie appearance in Mask of the Phantasm (The Killing Joke was a limited release Fathom Event, so it doesn't count) isn't his best work. Hamill delivers a reliably strong performance as the Clown Prince of Crime, but it's pretty clear that Joker was an afterthought for the film's third act, and it shows in the writing. This Joker is damn near perfect for a large chunk of the movie, but certain minor moments (such as Joker showing fear when Batman's actions might get them both killed) just don't feel true to the character. Other than that, this is about as good as Jokers get.
1. Heath Ledger
We could sit around debating this issue until the end of time, but the fact of the matter is that Heath Ledger's Joker from The Dark Knight is the best version of this character ever committed to film. He's terrifying, he's charming, he's funny, and he's brilliant in all the ways that we expect, and yet Ledger brings a certain X-factor that keeps the villain feeling unpredictable even upon repeat viewings. This isn't just one of the best comic book movie performances of all time; it's arguably still one of the best performances committed to film in the 21st century. Ledger's posthumous Oscar victory in 2009 remains one of the most deserved wins in recent memory, and it's going to be a long time before we stop holding up this Joker as the standard by which all others are compared.
Now head to the final page and vote!
What's your favorite major movie version of The Joker? Let us know what you think in the comments section below to keep this conversation going!
This poll is no longer available.
Your Daily Blend of Entertainment News
Originally from Connecticut, Conner grew up in San Diego and graduated from Chapman University in 2014. He now lives in Los Angeles working in and around the entertainment industry and can mostly be found binging horror movies and chugging coffee.