No One Has Ever Been More Excited About Candy Than Taraji P Henson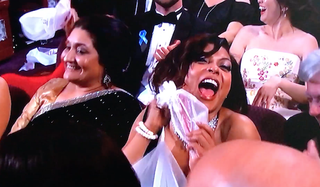 Have you ever been in the middle of an awards ceremony and wanted some candy to snack on? Ok, forget the awards ceremony part. Have you ever been in any situation where you've craved candy, but had no way of getting some immediately? Well, for many of the folks at the 2017 Academy Awards ceremony, that wish was granted, because thanks to host Jimmy Kimmel, they were air-dropped sugary sweets, and Hidden Figures star Taraji P. Henson was clearly excited by the delivery.
In the days leading up to this year's Oscars, Jimmy Kimmel promised that he would follow in the footsteps of Ellen Degeneres and Chris Rock by delivering food to the attendees of the ceremony. However, rather than bring in pizza and Girl Scout cookies again, Kimmel opted for candy, but it was the delivery method that was truly unique. Bags of candy were dropped from above, as if they were soldiers being dropped into a sugary battle. Photos posted on social media confirm that Red Vines and Junior Mints were in those bags. Sadly, there was no way to guarantee that everyone in the audience could get some candy, but for the folks that did, it surely brightened their days. Judging by her reaction, it might end up being the highlight of her evening.
Here's the initial candy-drop, with the actors and other folks in the audience looking legitimately surprised to see those white bags falling from above.
Not willing to take any chances, Hacksaw Ridge's Andrew Garfield decided to stand up and grab one of those little buggers so he could give it to a man who was sitting nearby. So sweet! (Pun slightly intended.)
This is the third year in a row where food has been delivered during an Academy Awards ceremony, so I can't help but think this is going to become an annual tradition, especially if comedians keep being approached for the hosting job. The problem is that air-dropped candy is quite the spectacle, so how can any host following after Jimmy Kimmel hope to make something even grander? Actually, strike that, it's not as important to make the delivery look bigger. What's important is that the food is being delivered. Even with all the glamor and accolades, sitting through these ceremonies can be a drag, and if food can liven up the night, then keep it up!
Your Daily Blend of Entertainment News
Connoisseur of Marvel, DC, Star Wars, John Wick, MonsterVerse and Doctor Who lore. He's aware he looks like Harry Potter and Clark Kent.
Your Daily Blend of Entertainment News
Thank you for signing up to CinemaBlend. You will receive a verification email shortly.
There was a problem. Please refresh the page and try again.