The Astounding Amount It Might Cost To Make Avengers: Infinity War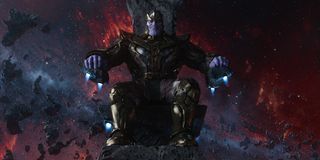 In case you haven't been regularly following along with the news surrounding Avengers: Infinity War, here's the main thing you need to know: this movie is going to be huge. As the culmination of what the Marvel Cinematic Universe has been building to since its inception, the story will see nearly all of this franchise's major heroes and many of the supporting players joining forces to battle Thanos. It was expected that a blockbuster like this was going to cost a lot given the size of the cast and all the effects needed, but a new report suggests that Marvel may be dropping an incredible $1 billion on it. Feel free to do the Dr. Evil pinky thing while you read that to yourself.
At a recent African American Film Critics Association luncheon (via Atlanta Business Chronicle), Pinewood Studios co-owner Dan Cathy mentioned that a movie at the Atlanta, Georgia branch is currently hosting a production that has a $1 billion budget. Cathy wouldn't name the movie, but given that Avengers: Infinity War kicked off its production last month, as well as what we know about its scope, it's the most likely candidate for dropping so many dollars. That said, keep in mind that Infinity War is also shooting back-to-back with the still-untitled Avengers 4, which is being released a year later. So it's possible that that $1 billion is dedicated to both movies, not just the third flick starring Earth's Mightiest Heroes. For comparison, Pirates of the Caribbean: On Stranger Tides holds the record for biggest budget on a single movie with $378.5 million, while with a shared film production, The Hobbit trilogy ranks at #1 with around $745 million, although that amount decreased following a tax rebate.
For most movies, including major blockbusters, seeing a $1 billion price tag would be absurd. Even Batman v Superman: Dawn of Justice, a movie that featured three of DC Comics' top superheroes and the monstrosity Doomsday, cost $250 million. For Avengers: Infinity War, it's plausible, especially if this is indeed an overlap with Avengers 4. Even though the MCU is also releasing movies like Ant-Man and the Wasp and Captain Marvel, not to mention has plans for a Phase Four, Infinity War is going to be their biggest movie yet. Hell, it may be the biggest movie they ever make. With all of Marvel's financial success, they can afford to pay top dollar to make it look as great as possible. That said, let's hope that this $1 billion price tag applies to both Infinity War and Avengers 4, because only four of Marvel's movies have cracked the $1 billion mark worldwide, and the studio will want to make as large a profit as possible. Spending $1 billion on two movies increases the chance of financial success between each of them, and that's not even accounting for merchandise sales.
Avengers: Infinity War will hit theaters on May 4, 2018, while Avengers 4 will follow on May 3, 2019.
Connoisseur of Marvel, DC, Star Wars, John Wick, MonsterVerse and Doctor Who lore. He's aware he looks like Harry Potter and Clark Kent.
Your Daily Blend of Entertainment News
Thank you for signing up to CinemaBlend. You will receive a verification email shortly.
There was a problem. Please refresh the page and try again.