Apparently Hugh Jackman Didn't Want Logan To End The Way It Did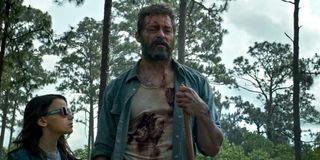 Warning: There are obviously some SPOILERS ahead for Logan. If you've not seen it, first of all, don't read ahead. Secondly, go and watch it immediately because it's splendid.
Logan hasn't just already been touted as one of the best comic-book films to ever be made, but it also proved to be one of the most emotional, too. That's because we saw the passing of Wolverine right at the end of the film, which left X-Men fans across the globe clutching to their tissues so they could wipe away their avalanche of tears. But it almost didn't ended that way. Hugh Jackman has now admitted that he wanted to explore every option before killing Logan off. The Australian actor explained,
The reason why Hugh Jackman originally wanted to see Wolverine walk away from Logan was down to the influence of Unforgiven. Hugh Jackman has been very open about how much of an influence Clint Eastwood's 1992 Best Picture winning western was on Logan, and he believed that watching the character of William Munny walk away from the film, having returned to his old life as an assassin and murdered dozens of people, was more powerful than watching him die.
Hugh Jackman originally believed that leaving Wolverine with the weight of a similar emotional heft at the end of Logan would have been just as effective. The actor even pitched this to Logan's co-writer and director James Mangold. However, this was where Hugh Jackman felt some resistance, as Mangold was very much set on having Wolverine die at the end of the film.
Hugh Jackman recalled to Yahoo that there was plenty of discussion on how best to end the film, but ultimately James Mangold won out and the decision was made to show Wolverine die. Hugh Jackman is man enough to admit his folly with that ending. In hindsight, he's very happy with how Logan concluded, and that Mangold was right for persisting with his vision for the film. Hugh Jackman declared,
Of course, it's impossible to know if a Logan finale that featured Wolverine walking away would have been as compelling as the one we saw in its actual conclusion. But there's no denying that seeing the beloved mutant finally succumb to his injuries, despite the fact that he was previously indestructible, provided a mesmerizing mixture of vulnerability, relief, and poignancy to the film- which Hugh Jackman did extraordinarily well to portray so convincingly. It also helped that it was a fitting farewell to him and the character, too. I'm just not convinced that watching Hugh Jackman walk away would have provided the same sort of closure.
Those of you that are still undecided should probably do yourselves a favour and head back out to watch Logan again, as it's still in cinemas and still superb.
Your Daily Blend of Entertainment News