What Woody Harrelson Taught Laura Dern While Working On Wilson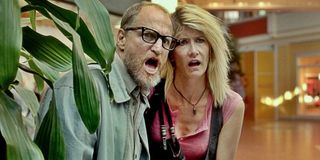 Laura Dern and Woody Harrelson are bonafide American national treasures. Something that their appearances in Star Wars: The Last Jedi and the still untitled Han Solo film, respectively, will surely help to underline. It's always a worry when two acting titans share the screen, though, as it can sometimes diminish one or both of their allure. Thankfully, both Lura Dern and Harrelson delightfully shimmer in Wilson together, especially when they are playing off of each other. And now Dern has admitted that she learned a lot from Harrelson while filming the comedy, while also gushing about how much she adores her co-star.
Laura Dern made these remarks to me when I sat down with both her and Woody Harrelson to discuss Wilson, which is the adaptation of Daniel Clowes' beloved graphic novel of the same name. Woody Harrelson puts in a titanic performance as the titular character, and watching the actor in action clearly inspired Laura Dern, too, as she waxed lyrical about his performance. Laura Dern enthused:
After seeing both Laura Dern and Woody Harrelson on screen together, and also having the privilege of interviewing the pair, it's hard not to fall in love with the two of them. There's just something innately wise and relatable about Dern and Harrelson, which has built up over their extensive 30 plus year careers, that makes you want to sit down and listen to every word they say.
You can do just that in Wilson, which is all the better because of their combined presence. Check out the trailer for Wilson below to get a sense of its quirky humor and characters, and just so you can watch both Laura Dern and Woody Harrelson in all of their glory, too.
You can also watch an extended clip of my interview with Laura Dern and Woody Harrelson regarding Wilson, which sees Dern praising Harrelson to the hilt, discussing her attraction to the character of Pippi and also includes Dern's first déjà vu experience in a decade, below.
Aren't they just the best? Wilson is in theater starting Friday, March 24.
Your Daily Blend of Entertainment News