The Hysterical NSFW Gift Hugh Jackman Got From The X-Men Origins: Wolverine Director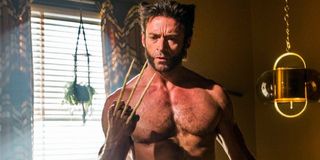 You can always trust Howard Stern to probe actors into revealing the most R-rated stories from their time on set. It has now been unearthed that the world famous shock jock did just that to Hugh Jackman back when the Australian was promoting X-Men Origins: Wolverine. As you'd expect from Howard Stern, the conversation soon turned to Hugh Jackman's penis. Jackman admitted that he had no qualms about revealing his manhood on screen, but unfortunately he couldn't do that for Origins because of its PG-13 rating. There was one particular scene that required Hugh Jackman to be completely naked during shooting, though, which meant that his entire body, in all of its glory, was caught on film. Director Gavin Hood knew exactly what to do with the snippets of film featuring Jackman's penis, too. As Jackman explained in this NSFW story,
I can only imagine that Hugh Jackman either has all of this film locked away for safekeeping, or that he immediately burned it to a cinder so that it would never result in a scandal. To be honest I think Gavin Hood missed a trick by not slicing a single frame of the footage into X-Men Origins: Wolverine, a la Tyler Durden in Fight Club. But that probably would have cost Origins its PG-13 rating.
As you could have guessed, Howard Stern didn't let up with his questions regarding Hugh Jackman's genitalia, as he asked whether or not the Les Miserables and Logan actor was happy with his size, to which Jackman responded,
You can check out Hugh Jackman's entire interview with Howard Stern, which includes a variety of other information not related to his penis, below. For those you of that are interested, Howard Stern and Hugh Jackman's dick talk is around the 6 minute and 30 second mark.
Of course, Hugh Jackman had the perfect chance to be completely nude as Wolverine in Logan, which was proudly R-rated. However, instead of using this freedom to show full frontal male nudity, Logan used it for footage of decapitating heads and a tremendous amount of gory violence, which I think was the right call. Hugh Jackman is currently working on The Greatest Showman, a musical in which he plays P.T. Barnum, which is due for release on Christmas Day, 2017, and will also definitely not include footage of his penis.
Your Daily Blend of Entertainment News