Why Venom May Be Aiming For An R-Rating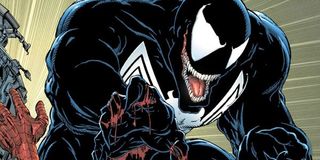 We've just learned that Sony is rumored to be considering making its recently announced Venom film R-rated because of the huge success that 20th Century Fox has recently had with both Deadpool and Logan. Which is hardly a surprise as both Deadpool and Logan found huge audiences despite the fact they were made at a fraction of the cost of their superhero rivals. It also helps that both films have been lavished with critical acclaim for rejuvenating the comic-book genre, which had threatened to become stale.
But don't get too excited about the R-rating, yet. Because the Venom film is still very much in the early stages of development over at Sony there's every chance that things could change very quickly, and rather drastically, as the studio gets the film ready for its 2018 release date. Especially because Venom doesn't even have a director on-board at the moment. In fact, all that has been officially announced about Venom is that it will be scripted by Dante Harper, who recently wrote Alien: Covenant, while it will also be produced by Matt Tolmach and Avi Arad.
Collider's speculation regarding Venom also explained that Sony is looking to keep the film's budget relatively modest. If that proves to be the case then the company is certainly following the path recently paved by 20th Century Fox on the other R-rated movies. However, what Sony have to keep in mind is the vastly different circumstances that led these films to be R-rated.
Let's start with Deadpool, which was almost disregarded by Fox, as they provided director Tim Miller with the measly budget of $58 million, and pretty much left the film up to its own devices. This allowed Ryan Reynolds and Deadpool's marketing team to forge a faultless promotional campaign that was irreverent and hilarious, and proved that the film was completely different than the other comic book movies that had come before it. The huge success of Deadpool then convinced Fox that an R-rated Logan film would work, too. But even then director James Mangold and star Hugh Jackman used this opportunity to make a subversive Wolverine film, which reveled in playing off of the mistakes of its predecessors. Audiences were also intrigued by the fact that Jackman insisted it would be his farewell as the character, particularly as he made it clear that he was going out on his own terms. As Venom will be a first movie outing, a R-rating would be somewhat different than what Logan tried to do, and maybe it would get a bigger budget than Deadpool, too.
While it's obviously intriguing to learn that Sony might be taking Venom down the R-rated route, this doesn't mean the studio is going to immediately find success if it chooses that route. Especially if Sony plans on being hands on, something that's likely to be the case since Venom is set to be the start of the company's new Spider-Man universe.
The most important decision Sony has to make regarding Venom is finding the perfect combination of director and actor for the film, like Deadpool and Logan did with Miller/Reynolds and Mangold/Jackman, respectively, rather than simply going for the flavors of the month. (A crime they were guilty of when they hired Marc Webb and Andrew Garfield for The Amazing Spider-Man series.) You'd like to think that Sony now has a clear idea and vision for what it wants to do with Venom, and the extended Spider-Man universe that will almost certainly come after, as the movie already has a release date of October 5, 2018.
Your Daily Blend of Entertainment News
Thank you for signing up to CinemaBlend. You will receive a verification email shortly.
There was a problem. Please refresh the page and try again.