Will Marvel And Sony's Partnership Last? Here's What One Producer Says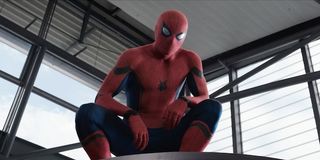 The current agreement that sees Sony and Marvel share Spider-Man is widely regarded as a milestone deal in modern movie history. It proved that studios could put aside their differences and allow audiences to get the films they want, while they were still able to line their pockets. But while it was hoped that this might kick-start deals of a similar ilk, it now sounds as if there's a chance that Sony and Marvel's agreement could actually come to an end as early as Spider-Man: Homecoming 2, which is due out in the summer of 2019. That's according to producer Amy Pascal's recent comments. Who, while originally praising the two parties for striking such an accord, then seemed to tease that it will come to an end much sooner rather than later:
Amy Pascal also went on to explain that it wasn't just Marvel and Sony that needed to iron out the details over the Spider-Man agreement, but it also included Disney, too, as they own Marvel Studios. The fact that all three companies were able to do just that was a "very rare thing," insists Pascal.
Not only does Amy Pascal's comments immediately raise doubts about Spider-Man's participation in the Marvel Cinematic Universe after Homecoming 2, but it also suggests that it has been a long slog simply getting Tom Holland's incarnation of the Webbed Wonder into Captain America: Civil War, the next two Avengers films and Homecoming at all. Plus, it is also a set back to those who dreamt that 20th Century Fox and Marvel might be able to figure out a deal for Fantastic Four or the X-Men join the Marvel Cinematic Universe. Especially since it has long been rumored that there's a rivalry between the studios.
As the former head of Sony, Amy Pascal was at the forefront of the deal that saw Spider-Man loaned over to Marvel, which was originally teased courtesy of the Sony hacking in November 2014 and then ultimately confirmed in February 2015. Pascal actually left Sony in May 2015, although she remained as a co-producer on Spider-Man: Homecoming alongside Marvel President Kevin Feige.
But while the above comments make it sound as though things could be coming to an end rather soon with Tom Holland's Spider-Man and the Marvel Cinematic Universe, things could change rather quickly. Especially if Spider-Man: Homecoming and its sequel end up making a preposterous amount of money, and are both critically acclaimed, too. Something that Marvel's track record suggests should happen. We'll just have to wait and see. In the meantime, you can watch Amy Pascal make the above comments to Superhero News below.
Meanwhile, we'll finally get to see Tom Holland in action when Spider-Man: Homecoming is released on July 7, while Spider-Man: Homecoming 2 is slated to be in theaters on July 5, 2019.
Your Daily Blend of Entertainment News