The Spider-Man: Homecoming Role Tom Holland Really Wanted Jason Momoa For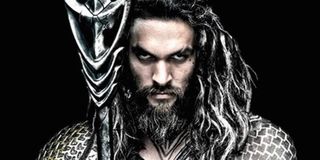 Tom Holland is looking to build bridges between the Marvel Cinematic Universe and the DC Extended Universe, as the English actor has admitted that he really wanted Jason Momoa to portray Kraven in Spider-Man: Homecoming. Obviously that was never going to happen, as Jason Momoa was already signed up to play Aquaman for DC. But Tom Holland's comments proved that, despite the rivalry, there's still a healthy amount of respect between the actors involved in the universes, as he admitted,
It just so happens that Tom Holland is exactly right, because Jason Momoa would have made an absolutely impeccable Kraven. Both Aquaman and Kraven share the same physical capabilities. But whereas Arthur Curry does most of his battling in the water Kraven honed his hunting skills in Africa, where he'd take down large animals with just his bare hands. It was here where Kraven met a Voodoo witch doctor by the name of Calypso that provided him with an herbal potion that enhanced his physical powers and gave him the strength, speed, and senses of a jungle cat, as well as increasing his health.
After joining The Avengers for a brief time, Kraven decided to try and expand his hunting horizons by going after the most prized target in the world. That's right, at the suggestion of his half-brother the Chameleon, Kraven went after Spider-Man, even going back to Calypso to increase his powers. Thus began his rivalry with the Webbed-Wonder, which also saw him joining the Sinister Six.
There aren't many actors around that have the physicality to pull off such roles like Aquaman and Kraven, which is why Jason Momoa was name-dropped by Tom Holland in his MTV interview and also snapped up so early on by Warner Bros to join the DC Extended Universe. I have to admit that it has actually taken me a while to be convinced that Jason Momoa has the presence to do the superhero justice. While he's obviously looked the part in pictures, and has always impressed me with both his axe-throwing and beer-drinking antics, it wasn't until the most recent Justice League trailer that I finally got a sense of what he will bring to the character. Plus, he looks cool as funk riding on the back of the Batmobile.
Unfortunately, Jason Momoa's allegiance to the DC Extended Universe means that there is no chance that he'll ever pop-up alongside Tom Holland's Spider-Man as Kraven The Hunter. Not only did Jason Momoa just put the finishing touches to his role in Justice League as Aquaman, but he'll be reprising the role for the character's own solo film. And if all goes according to plan, Momoa will be a firm fixture of the DC Extended Universe in the years to come, as well. Meanwhile, Tom Holland's first solo film as Peter Parker, Spider-Man: Homecoming, will be released into theaters on July 7.
Your Daily Blend of Entertainment News
Thank you for signing up to CinemaBlend. You will receive a verification email shortly.
There was a problem. Please refresh the page and try again.