Channing Tatum And Tom Hardy's New Movie Isn't Happening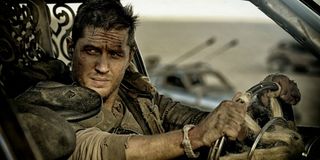 Those of you anticipating the previously touted Tom Hardy and Channing Tatum crossover film are going to have to start editing White House Down and Mad Max: Fury Road together, because they've both dropped out of Triple Frontier. Things are looking increasingly bleak for the proposed thriller, too, because Paramount Pictures has also pulled out of the film, which was all set to go into production next month until these latest two bombshells hit.
Considering the talent that has already been involved in developing Triple Frontier, and the cast that had agreed to appear, it's hard not to be a tiny bit devastated that the film has so drastically been set back. Not only had both Tom Hardy and Channing Tatum been attached to the film since the start of the year, but the Oscar winning star of Moonlight Mahershala Ali had just joined the cast, too. This trio of fine actors had been attracted to the project because of the script from Mark Boal, who in the past has written the likes of The Hurt Locker and Zero Dark Thirty, both of which garnered him Academy Award nominations. In fact, the former actually won the best Original Screenplay award.
Kathryn Bigelow, who directed both The Hurt Locker and Zero Dark Thirty, was previously linked to the film. But J.C. Chandor was the filmmaker that signed on the dotted line to oversee the ambitious effort, which is a thriller that's set in the notorious border zones between Paraguay, Argentina, and Brazil, where the Iguaza and Parana rivers meet. Having previously overseen Margin Call, All Is Lost, and A Most Violent Year, each of which were superb but failed to find huge audiences, Triple Frontier had all the ingredients to move J.C. Chandor up another echelon.
Obviously that's not going to happen over at Paramount Pictures now, though. According to Deadline's sources there are a number of reasons why the film is now in the process of finding a new home. First of all J.C. Chandor handed in a new rewrite that neither Channing Tatum or Tom Hardy were fans of. In fact, the pair were so disappointed in the direction that the script had taken they immediately began to reconsider. Paramount Pictures had their own limitations when it came to Triple Frontier, too, as they wanted to proceed on a strict budget and within an exact time frame. So when it emerged that extensive changes were being requested, they decided not to move forward. It also didn't help matters that Brad Grey, who had prioritised Triple Frontier as a pet project, recently left Paramount Pictures, too.
Triple Frontier is still obviously rife with potential, though, as the likes of Tom Hanks, Will Smith, and Johnny Depp previously considered joining it, so there's every chance that the movie will eventually still happen... just not with Channing Tatum and Tom Hardy. We just all need to cross our fingers and hope that J.C. Chandor will assemble a different cast and find a new home for Triple Frontier in the near future, especially because the world of cinema needs more output in terms of these sorts of films.
Your Daily Blend of Entertainment News
Your Daily Blend of Entertainment News
Thank you for signing up to CinemaBlend. You will receive a verification email shortly.
There was a problem. Please refresh the page and try again.