Has Wonder Woman 2 Been Confirmed?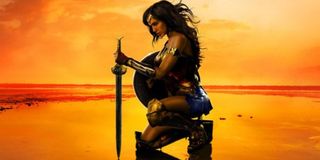 A lot is riding on the shoulders of Gal Gadot's Diana Prince. Aside from the fact that Wonder Woman will definitively prove whether or not the character can hold her own in a solo movie, the film may finally prove that DC can make a movie that both makes money and earns love from a whole slew of fans. With that in mind, new rumors suggest that we may soon breathe a collective sigh of relief. Early buzz associated with the upcoming DCEU period piece seems promising, and now it appears that Wonder Woman 2 may already be in development.
According to Twitter user Arthur Wong, Man of Steel director Zack Snyder was recently in attendance at the Wonder Woman premiere in Shanghai and admitted that Wonder Woman 2 is on the way. Additionally, his wife Deborah Snyder reportedly claimed that the project is currently in development at Warner Bros., but the company's next female superhero project is Joss Whedon's Batgirl movie. As far as rumors go, that's quite a bit to get excited for in the long run.
Aside from the fact that this would obviously be an intriguing development in the DC Extended Universe, this rumor helps give us a possible timeline for DC's next superhero projects. Reports that came out last year indicated that David Ayer's Gotham City Sirens was similarly on a fast track at DC, so if Batgirl is the first of that set of movies, then the possible release order could easily be: Batgirl, then Gotham City Sirens, then Wonder Woman 2. We've waited decades to see women take on more substantial roles in comic book movies, and now it appears that DC is trying to spearhead that venture. For now, if you'd like to keep tabs on what release dates DC has announced, head here.
Sifting through the internet to find the truth always represents a daunting challenge, but other tweets posted by Arthur Wong at least lend credence to the fact that he was at the event. After all, that wasn't the only tweet posted from the Wonder Woman world premiere in Shanghai.
As of right now, it's unclear whether or not DC has a second Wonder Woman brewing behind the scenes. We're treating this revelation as a rumor, but it's a believable story. Early word of mouth surrounding Patty Jenkins' Wonder Woman suggests confidence in the film, and it would make plenty of sense for DC to double down on a potentially successful franchise -- particularly off of the heels of misfires like Suicide Squad and Batman V Superman: Dawn of Justice. Wonder Woman 2 hasn't officially received confirmation from DC or Warner Bros., but this seems feasible when we look at the performances of other DC movies and how Warner Bros. has operated in recent years.
The possibility of Wonder Woman receiving the full-blown franchise treatment also seems more and more likely the more we learn about the film. Just last week it was revealed that Wonder Woman would tease the presence of the Blackhawk Squadron in the DCEU -- thus leading many fans to assume that a potential sequel could take Diana to WWII before sending her into exile. DC and WB have managed to keep Wonder Woman's story under tight wraps so far, so we cannot rule anything out just yet; only time will tell what ultimately happens.
We will bring you more information regarding the status of Wonder Woman 2 as new details related to the project become available to us. Diana Prince's first solo movie will debut on June 2; here's everything that we currently know about the Amazonian warrior's first silver screen adventure!
Originally from Connecticut, Conner grew up in San Diego and graduated from Chapman University in 2014. He now lives in Los Angeles working in and around the entertainment industry and can mostly be found binging horror movies and chugging coffee.
Your Daily Blend of Entertainment News
Thank you for signing up to CinemaBlend. You will receive a verification email shortly.
There was a problem. Please refresh the page and try again.