Why The Logan Ending Is Actually A Happy Ending, According To James Mangold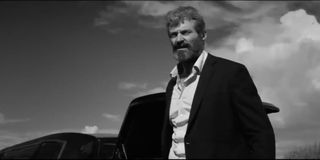 SPOILING WARNING: If you haven't seen Logan yet (first of all what's wrong with you), the following article contains huge SPOILERS regarding the end of the blockbuster, which means that you almost certainly shouldn't read ahead. You have been warned.
Logan wasn't just a film that managed to enthrall, captivate, and rejuvenate the superhero genre, it also made even the most cynical and hardened of moviegoers shed a tear. Of course, it did just that by showing us the death of Hugh Jackman's Wolverine, who died protecting Dafne Keen's X-23. In this moment, after eight films of being the permanent outsider, Wolverine finally understood what it meant to have a family, to be satisfied, and to even be happy. That's according to the film's director James Mangold, who recently explained why he believes the ending of Logan is actually a happy one. James Mangold recently told CinemaBlend,
James Mangold made this admission to me on Wednesday morning when I sat down with the director to not just discuss the huge success of Logan since it was released back in March, but also Logan Noir, which presents the film in black and white and will be a feature on the film's home entertainment releases. James Mangold and Hugh Jackman always knew that the decision to kill off Wolverine at the end of Logan was going to come with an inordinate amount of pressure, as Hugh Jackman has been the face of the X-Men franchise for close to 17 years.
So it speaks volumes of just how well James Mangold and Hugh Jackman handled his death that it provoked such an emotional response from moviegoers, who instantly deemed it a worthy send-off for the character. You can watch a snippet of my discussion with James Mangold, and see him explaining why Logan's conclusion is actually a happy one, below.
Logan, and the accompanying Logan Noir, is now available on Digital HD, while it will be released on Blu-ray, DVD, and 4k Ultra HD on May 23rd. Stay tuned to CinemaBlend over the next few days for further revelations from my chat with the always affable James Mangold, too.
Your Daily Blend of Entertainment News