One Fun Character Who Will Have A Bigger Role In Deadpool 2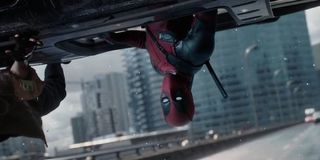 Now that 20th Century Fox has finally confirmed that Deadpool 2 will be with us in the summer of 2018 we can properly start to count down the months, weeks, and days until it is released. T.J. Miller has just given us an extra special reason to anticipate Deadpool 2, too, as the comedian and actor has insisted that his character, Weasel, will have an even bigger role in the sequel. Even though he was well aware Marvel and 20th Century Fox's henchmen might attack and injure him for revealing too much about Deadpool 2, T.J. Miller couldn't help but recently admit,
Of course, we here at CinemaBlend are delighted to hear T.J. Miller's comments to MovieWeb, as we abide by the theory of the more T.J. Miller, the better. That isn't just primarily reserved for Deadpool 2, though, as any film, television show, or just a stroll in the park could be vastly improved with the sudden appearance of his delightful curls. It was already known that Deadpool 2 would feature the return of T.J. Miller as Weasel, but the fact that it is going to be elongated makes it even more delightful. It's unsurprising, though, because considering how the comedian's stock has risen quite a bit since the release of the first film, it would have been foolish if his tour-de-force comedic skills weren't utilized even further.
As well as appearing in Deadpool, which defied the odds to pull in $783.1 million at the box office and become the highest grossing R-rated film of all time, Miller has been a main fixture in Silicon Valley during its four season ascent to become the best comedy on television. On the big screen, he was also one of the leads in Office Christmas Party. Things are only going to get better for T.J. Miller, as he's voicing the lead character in The Emoji Movie later this summer, and recently worked with Steven Spielberg on Ready Player One, too. But it is T.J. Miller's return as Weasel that movie fans are likely anticipating most. Just a quick look at their dynamic from the first Deadpool film will remind you why:
We now know exactly when we will see T.J. Miller as Weasel again, as Deadpool 2 will hit cinemas on June 1, 2018. This time around Miller and Ryan Reynolds will be joined in their fun by Josh Brolin, who has been cast as Cable, and Zazie Beetz as Domino, while Morena Baccaarin and Leslie Uggams are expected to return, and fans are still dreaming that Hugh Jackman will at least cameo. Because it would just be cruel if we didn't get to see Jackman's Logan and Reynolds's Deadpool on screen together. And, no, X-Men Origins: Wolverine really doesn't count.