How Finn Has Changed In Star Wars: The Last Jedi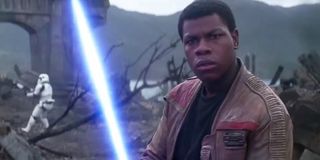 The footage of Finn in Star Wars: The Last Jedi has so far suggested that the former Stormtrooper might just be taking a rather long nap for most of the film. But John Boyega has now looked to quash these fears, instead revealing that Finn has turned into something a minor celebrity across the galaxy between The Force Awakens and The Last Jedi. John Boyega recently detailed how Finn is finally kind of a big deal in The Last Jedi, remarking,
Fingers crossed that Finn's celebrity status slightly goes to his head, and he even gets his own entourage and has his own reality show. I can't quite see Finn taking it that far, though, especially as his trials and tribulation throughout Star Wars: The Force Awakens and the fact that he was left unconscious at the end of the film after his fight with Kylo Ren, have surely kept him grounded. Of course, this isn't the first time that Finn has been referred to as a big deal, as the character described himself as that in The Force Awakens, telling Rey and Han Solo,
This then provoked Han Solo to deliciously respond with:
It takes Finn a little while to get back on his feet after the events right at the end of The Force Awakens. John Boyega admitted to Entertainment Weekly that after being "slashed with a saber" in that fight he falls into a coma. Thankfully, the galaxy far, far away has a pretty good healthcare system, and the "suit" that we see Finn in in the trailer "helps him to recover." Once he finally wakes up from his coma, Finn takes a little while to regain his mobility, and John Boyega added that the character needs some assistance in order to get around and help the Resistance. Which is understandable, as John Boyega provided some further details on just how traumatic and gruesome Finn's lighstaber injury is, remarking,
We'll get to see if John Boyega's Finn can every regain his full fitness when Star Wars: The Last Jedi is released on December 15.
Your Daily Blend of Entertainment News
Thank you for signing up to CinemaBlend. You will receive a verification email shortly.
There was a problem. Please refresh the page and try again.