Why The It Comes At Night Alternate Ending Didn't Work, According To Joel Edgerton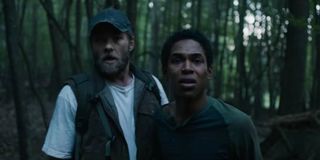 WARNING: The following article contains some SPOILERS for It Comes At Night. While they don't go into specifics, they give vague hints about its outcome, so you should proceed cautiously.
It Comes At Night is already being talked about as one of the best horror films of 2017. Not only because of just how unnerving and subtly terrifying it is, but because it doesn't pull any punches in just how dark it becomes. But it almost ended in a much more twisted fashion, as Trey Edward Shults originally wrote and shot It Comes At Night with the intention of bringing it to a close with a horrifying dream sequence. However, the decision was ultimately made to go in a different direction, something that its lead star Joel Edgerton firmly agreed with. Joel Edgerton explained:
Joel Edgerton admitted this to me when I recently sat down with the actor to discuss It Comes At Night. I also chatted to Trey Shults about his follow-up to 2015's Krisha, too, and he went into more detail about the alternate ending to It Comes At Night, explaining to me that it would be yet another one of Travis (Kelvin Harrison Jr)'s nightmares, but this time it would see him confronting all of the demons he had to battle with in the house. Trey Shults remarked:
Joel Edgerton also added some further details regarding the sequence, revealing that it would have seen Will (Christopher Abbott) returning to the house, and then looking to torture Travis, Paul (Joel Edgerton) and Sarah (Carmen Ejogo), before then burning the entire home to the ground. Joel Edgerton continued:
It took a while for Trey Shults to realize that the scene needed to be cut from It Comes At Night, though. Which probably had something to do with the fact that they actually shot the sequence, which included burning down the home where the movie is entirely set. After showing it to some people, Trey Shults soon realized that the intended conclusion might be a bit too much, before he then finally found a much "simpler" and "effective" way to bring it an end, without jeopardizing his original vision. Trey Shults recalled:
But while Joel Edgerton agrees that Trey Shults was right to get rid of the final nightmare sequence, he is still slightly disappointed that people didn't get to see his performance during it, as he believes that it was some of the greatest work he has ever done as an actor. However, he is still adamant that it was for the greater good of the film, and is ecstatic with how It Comes At Night has ended up. Joel Edgerton remarked:
It Comes At Night is now in theaters, and, as my review attests, I believe that it is truly astounding stuff. So go and see it. And if you already have, go and see it again.
Your Daily Blend of Entertainment News