Blink-182's Tom DeLonge Is Making A Movie, Here's What We Know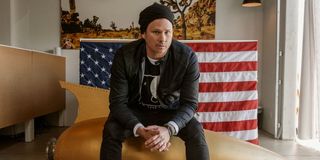 As the co-founder, co-lead vocalist, and guitarist for Blink-182, Tom DeLonge has already proven quite adept in the world of music, as the punk rockers sold over 50 million albums across the world before they split in 2015. But while Tom DeLonge is still involved in Angels & Airwaves, he's now looking to broaden his creative horizons by directing his very own feature film, entitled Strange Times, from a script that he has co-written.
It's no surprise that Tom DeLonge has taken such a hands-on approach with the project, as it is based on the trilogy of Strange Times books that he has co-written, too. The story revolves around a group of San Diego skateboarders who decide to investigate the paranormal activity that has become rife in their town. Obviously things soon go awry, and they're eventually sent on a whirlwind adventure. Tom DeLonge has been busy getting things in order for the film, too, as he has cast Jack Samson (Zodiac) as Charlie Wilkens and Lizzie Broadway (Bones, Chicago P.D.) as Alli, picking them out of 3000 casting submissions.
Originally launched as a website that reported on "unexplained phenomena," Strange Times has since grown exponentially across a number of different mediums, This has included the graphic novel Strange Times: The Curse Of Superstition Mountain, and a whole host of merchandise. Tom DeLonge's Strange Times: The Ghost In The Girl, the first of a planned trilogy of sci-fi, young adult novels that he has co-written with Geoff Herbach, also hit shelves, courtesy of Simon & Schuster, last year.
Tom DeLonge isn't just working as the Strange Times co-writer and director, though. That's because he has already written new, original music that he will record with Angels & Airwaves for the film. Those of you who are worried Tom DeLonge might be making too big of a leap by moving into cinema can take solace in the fact that he's already picked up an award for his efforts behind the camera. Back in 2014 Tom DeLonge co-directed the short film Poet Anderson: The Dream Walker, with Edgar Martins and Sergio Martins, and it went on to win the Best Animated Film at the Toronto International Short Film Festival. Which suggests that Tom DeLonge has a knack for filmmaking.
We'll get to see if this skill extends to the big-screen when Strange Times is eventually released through Tom DeLonge's multi-media company To The Stars and their partners The Cartel and Striker Entertainment. We're still not entirely sure of its exact release date, but since production is due to begin in the fall it will hopefully be with us towards the end of 2018, or early 2019. If you're trying to find something that's going to be released into cinemas a little sooner than that then why not check out CinemaBlend's full 2017 movie schedule? There's a lot of good stuff on there.
Your Daily Blend of Entertainment News