How Thanos' Soldiers In Avengers: Infinity War May Be Different From The Comics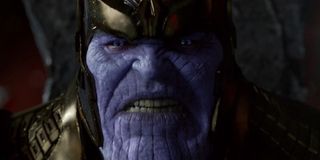 Thanos is one of the most powerful beings in Marvel Comics history, with few of the comic book company's heroes being able to properly go toe-to-toe with him. But he is also a warlord, and warlords rely on others to help carry out their will. Thanos will use such underlings next year in Avengers: Infinity War when he comes to Earth in search of the Infinity Stones. While Marvel hasn't officially revealed who will be serving Thanos in the next Avengers movie, set reports have indicated that like in the comics, he'll be aided by the Black Order. However, a new rumor is claiming that unlike on the printed page, the MCU's Black Order will be comprised of the Mad Titan's children.
Our only experiences with Thanos' "kids" in the MCU has been with Gamora and Nebula in the Guardians of the Galaxy movies, and they have both defected from him. Now MCU Exchange is reporting that in Avengers: Infinity War, Thanos' Black Order will be made up of his more loyal "children," i.e. the aliens he takes when they are young to forge into mighty warriors. So unlike Gamora and Nebula, these siblings are still carrying out the Mad Titan's will, and they'll be by his side when he's searching for the Infinity Stones and invades Earth.
Although these characters supposedly won't be referred to as the Black Order in Avengers: Infinity War, they're said to be inspired by the iteration of the group that appeared in Jonathan Hickman's New Avengers run. The lineup of that group included Black Dwarf, Proxima Midnight, Corvus Glaive, Ebony Maw and Supergiant. Again, none of Thanos' minions have been officially identified yet, although Terry Notary confirmed he is playing a henchman. It's also worth noting that in the comics, Black Dwarf attacked Wakanda. With both Black Panther and M'Baku returning for Avengers: Infinity War, as well as Wakanda appearing to be one of the movie's settings, perhaps we'll see a similar conflict unfold on the big screen.
The MCU's Thanos was introduced in 2012's The Avengers, and he returned for brief appearances in 2014's Guardians of the Galaxy and 2015's Avengers: Age of Ultron. However, all those movies showed the Mad Titan relying on others to carry out his bidding, and since folks like Loki and Ronan failed to bring him the Infinity Stones, Thanos has decided to accomplish that task himself. We still don't know yet what he specifically has planned for Avengers: Infinity War, his ultimate goal is to bring the six Stones together so he can change reality as he sees fit. It will take the Avengers and the Guardians of the Galaxy to stop him, though with Avengers 4 being released a year later, it's hard to say if they'll be successful by the time Infinity War ends.
Avengers: Infinity War arrives in theaters on May 4, 2018, and Avengers 4 will follow on May 3, 2019.
This poll is no longer available.
Connoisseur of Marvel, DC, Star Wars, John Wick, MonsterVerse and Doctor Who lore. He's aware he looks like Harry Potter and Clark Kent.
Your Daily Blend of Entertainment News
Thank you for signing up to CinemaBlend. You will receive a verification email shortly.
There was a problem. Please refresh the page and try again.