Why Daniel Craig Shouldn't Return To James Bond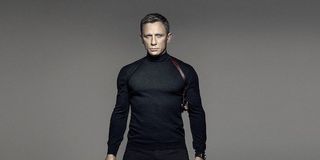 There is nothing quite like the James Bond franchise in Hollywood. Over the course of six decades and 24 films, the suave super spy has wowed us with insane stunts, stylish cars, and a seemingly limitless supply of witty one-liners -- and we've loved every second of it. Every actor who has ever stepped into the role of 007 has added to the mythos of the character, and in that regard, current Bond Daniel Craig is no different. The actor has become a fundamental element of the franchise since he first donned the tux in 2006's Casino Royale, and it was even recently announced that he is now considering returning for the series' twenty-fifth installment.
On that note, as much as we love Daniel Craig as James Bond, now seems like the right time for him to walk away. As blasphemous as that may sound (and before you grab your torches and pitchforks), please hear me out. We have put together a list of reasons why Daniel Craig would be better off walking away from the 007 series and not returning for Bond 25. Check out our list, and let us know what you think in the comments section below!
His Character Arc Has Ended
Before Daniel Craig stepped in to don the iconic 007 tuxedo, the concept of a character arc was not really something that people associated with our martini drinking hero. Prior to Craig's tenure, Bond was static. He never really changed because he needed to remain timeless. However, over the course of Daniel Craig's four James Bond films, he offered fans a glimpse at a man slowly descending into darkness. Every film has sent him spiraling further down the rabbit hole, and Spectre ended with us meeting the James Bond that we came to know and love in the 20 Bond films that preceded Casino Royale. The arc of this Bond has ended; it's now time to hand the Walther PPK and license to kill down to a newcomer.
Spectre Proved The Franchise Needs A Fresh Start
There's no getting around it; when compared to the insane heights that the Craig-fronted Bond films reached in Casino Royale and Skyfall, Spectre was a bit of a dud. There are plenty of reasons why the film fell flat with audiences, but one of the biggest reasons was the fact that it simply seemed to fall back on the tired, Pierce Brosnan-esque Bond tropes that went out of fashion before Daniel Craig even entered the picture. The franchise needs to go in a new direction to remain fresh and relevant for modern audiences (not unlike how Casino Royale reinvigorated the series), and a factor in that process is the casting of a new actor in the series' lead role.
Behind The Scenes Drama Is Overshadowing The Franchise
Daniel Craig made waves after the release of Spectre when he admitted that he would rather slash his wrists than play the suave super spy again. Although that may seem a bit melodramatic, it also underscores a very serious behind the scenes problem that has started to become very well-known among fans: Craig doesn't love the character, and he has consistently hesitated to return to the franchise. That's not good for a studio trying to build anticipation for the next entry in a franchise. Instead of forcing Craig to come back for Bond 25, he should be allowed to walk away so some fresh blood can step in and put a positive spin on the headlines.
Craig Is More Interesting In Offbeat Roles
For an entire generation of moviegoers, Daniel Craig has become known as the definitive James Bond. As cool as this is, it feels like a waste of his many talents outside of the action genre. Sure, he can throw a punch better than almost any actor working today, but Daniel Craig has proven himself to be a great character actor as well. Need evidence of that fact? Look no further than the delightfully absurd marketing material for Steven Soderbergh's upcoming heist thriller Logan Lucky. Craig seems completely off his rocker as eccentric criminal Joe Bang, and he looks like he's having a blast (pun intended) in the process. We love Craig as Bond, but there's so much more to his acting pedigree.
He Might Be Getting Too Old For The Role
Don't get me wrong, Daniel Craig is well into his forties, and he has more muscles than most of us could ever dream of having. Having said that, it's worth noting that he will be in his fifties by the time Bond 25 actually debuts in theaters. Bond actors have a definite expiration date, and even the best of them have all run into the problem of becoming a bit too long in the tooth to portray an action-heavy sex symbol. Remember the 30-year age difference between the late Roger Moore's Bond and Bibi Dahl in 1981's For Your Eyes Only? That's where Craig is heading if he doesn't hang up his suit while he's still on top.
This poll is no longer available.
Originally from Connecticut, Conner grew up in San Diego and graduated from Chapman University in 2014. He now lives in Los Angeles working in and around the entertainment industry and can mostly be found binging horror movies and chugging coffee.
Your Daily Blend of Entertainment News
Thank you for signing up to CinemaBlend. You will receive a verification email shortly.
There was a problem. Please refresh the page and try again.