Getting The F-Bomb Right At The End Of Spider-Man: Homecoming Was Not As Easy As It Looked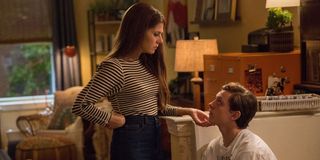 Note: There are plenty of spoilers for Spider-Man: Homecoming that are going to be discussed in this article beyond the mention of an f-bomb. If you haven't caught the flick, yet, now is a good time to turn back.
Spider-Man: Homecoming does a lot during its more than two hour runtime. We get to see Spidey grapple with getting ignored by Tony Stark and the Avengers, we get to see him take on his very first full-blown villain, and we even get a glimpse of a potential supersuit he could be wearing down the line. But one of the most exciting moments in the film came at the very end, when Aunt May screamed out a very memorable f-bomb. When asked about how Spider-Man: Homecoming ended, Marisa Tomei revealed that they actually had her scream out the word while filming and then had to work and work to make the moment appropriate for the film's tone and audience. She said:
When Peter Parker got back home from his epic adventure and his Aunt May saw him in his suit, she screamed out a pretty loud f-bomb--well, part of a pretty loud f-bomb--which the movie capably edited so you'd know what she said without super offending any parents who may have brought their younger kids to the screening. Although movies can get away with one f-bomb before being giving the dreaded r-rating, Spider-Man: Homecoming isn't the same sort of film as Deadpool. It's actually pretty tame for most kids, provided their parents can get over the fact their kids will hear a portion of an f-bomb and another crack about porn.
Regardless, getting Spider-Man: Homecoming to the point where Jon Watts got to make the movie he wanted while still making a movie that families can see, even with younger kids. According to what Marisa Tomei told the Huffington Post, it took a lot of tweaking to get there. From what I can remember, we ended up with probably 1/3 of an f-bomb, which really constitutes the f and like part of a u sound. Still, the fact that Peter Parker is actually Spider-Man is a huge reveal and that comes across with Aunt May's reaction. Plus, the curse word ends the film on a comical note.
Profanity has its time and place if it still wants to be impactful, and figuring out when it's an acceptable moment for a curse word to make an impact can be very difficult. With great power comes great responsibility, amiright?
Spider-Man: Homecoming is currently in theaters. To find out what else Marvel has coming up, take a look at our Phase 3 guide.
Amazing Race & Top Chef superfan with a pinch of Disney fairy dust thrown in. If you've created a rom-com I've probably watched it.