11 Great Movies Coming To Netflix In August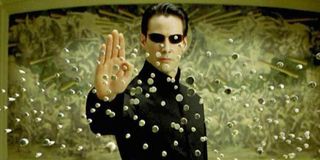 We're nearing the beginning of the school year, which means it's time to grab those last couple of beach days, road trips, and barbecues before the season's out. However, there are still going to be those days when the weather's too hot, the rain's too much, or you just want an easy moment of entertainment. Which means, Netflix is going to be one of the places you head to for cinematic merriment.
We've already put together the full list of this month's incoming movies, as you can see here. But if you really want our personal favorites from the lot, this is the place to be. Eleven films struck us as big ticket winners, and you can see all of them in the following list. Prepare your queue for the following blockbusters:
The Matrix Trilogy
You can't really tell people what The Matrix is, as people ultimately have to see it for themselves. And in that respect, you really can't watch just one Matrix movie, as all three make up one massively interesting story. Some installments may pale in comparison, but ultimately, it's an epic series that deserves a full run-through. If you really need a reason for why you need to watch The Matrix in one, big marathon, we can give you two: Keanu Reeves' kung-fu, and Hugo Weaving's slow descent into madness.
The Founder
If there's one thing you can count on in the Hollywood world, it's Michael Keaton's intensity. The man brings it every time he's on the screen, and The Founder is a gem that more folks need to watch. Playing the role of Ray Kroc, the man who would be king of the McDonald's empire, the film shows his rise from a mere salesman to a cutthroat corporate raider. Come for the Keaton, stay for the strong supporting performances by Laura Dern, Nick Offerman, and John Carroll-Lynch.
Jackie Brown
Quentin Tarantino has never made a literary adaptation past his unique spin on Elmore Leonard's Rum Punch. That novel, through the prism of Tarantino's love of 70's Blacksploitation films, turned into one of his best, if not little known, films: Jackie Brown. With Pam Grier playing the titular flight attendant, and co-stars like Robert DeNiro, Samuel L. Jackson, Bridget Fonda, Robert Forster, and Michael Keaton all bringing up the supporting cast, it's classic Tarantino all around with this flick. If only he'd take on another Leonard novel as a project before supposedly retiring, as this is an adaptation that really sings.
Sing
Ok, that last pun was not intended to segue into our reasons for Sing being a film you should keep on your radar. But while we're here, it'd be a total waste not to extoll the virtues of what's possibly Illumination Entertainment's best animated film. Not to mention, with the news that Taron Egerton has been cast as the new lead in the Elton John biopic, it's hard not to think that his rendition of "I'm Still Standing" didn't, at the very least, give him a competitive advantage. Rest assured, this kid's musical is one that everyone will find something to enjoy about it.
The Addams Family
It is never too late to start preparing for Halloween. With retail outlets starting to stock costumes, décor, and candy, who says you can't get into the gholish spirit long before October even becomes a going concern. This is especially true when a film like The Addams Family makes it to Netflix's streaming service, as this is a film that truly embodies the spirit of the haunted season. But even if you're patiently waiting to break out your fake spiderwebs, it's still a fun ride into the realm of dark comedy, as well as family togetherness. En garde!
Cloud Atlas
Some movies are so ambitious that they don't always connect with the audiences they seek the first time around. This sometimes leads to those sorts of films becoming punchlines, but Cloud Atlas has, over time, lost the stigma of being a short-hand gag for the excesses of Hollywood, and started turning into a cult gem that folks truly enjoy. With its unique narrative, and the ability to turn a hard to adapt book into a flowing work of art, The Wachowskis and Tom Tykwer turned in a work of beauty that will only grow in influence over time.
Bad Santa
Christmas is another time of year that folks love to jump the gun on, and if you need a little yuletide cheer in August, Bad Santa is a good movie to throw onto your holiday list. Billy Bob Thornton's crustier take on the man in the red suit is one that's only become more popular as the years have moved on, and let's face it, not all Santa themed films can be cheerful. If you love misanthropic humor, and watching a guy in a Santa suit getting into some naughty business, look no further.
Innerspace
Our next two choices are a double feature of underrated Joe Dante pictures, and they're both the epitome of summer movie fun! First up is Innerspace, a sci-fi comedy/adventure that asks the question, "What if Martin Short was being piloted by Dennis Quaid?" The movie only gets more exciting when it starts to mix in corporate espionage, evil scientists, and a cowboy obsessed henchman. To the relative outsider, this may seem a bit much; but to folks who know Dante's reputation, it's an invitation for excitement.
Small Soldiers
The other end of our Dante Double Delight is Small Soldiers, a movie that's probably better remembered for its promotional tie-ins, rather than for its content. Which is a damned shame, because Joe Dante assembles members of both Spinal Tap and The Dirty Dozen to voice the adversarial toys that plot havoc on each other, as well as humanity. But it's the contrast between Tommy Lee Jones' warhawk Chip Hazard and Frank Langella's Archer that is the heart of the film. Of course, as this is a Dante picture, expect some comedy madness to make it into the mix.
Sleepy Hollow
OK, so you've watched The Addams Family, and you want another Halloween-flavored treat to enjoy. We can't blame you, which is why Tim Burton's Sleepy Hollow is our idea of a good follow-up. Though you won't find as much comedy in this choice as you would with our previous recommendation, and you might want to think twice before slipping this one on in front of your more squeamish friends. Sure, there's a romance between Christina Ricci and Johnny Depp, but that's on top of a frightening looking Christopher Walken as the Headless Horseman's more headed incarnation. And, naturally, all the beheadings that happen to occur in the film. Just a friendly heads up.
Lord of War
Andrew Niccol and Nicholas Cage are talents that are so varied that you'll get either champagne or dirty pool water out of them on any given day. Lord of War is a champagne picture between the two collaborators, as it satirizes the world of arms dealing and government contracting, while at the same time showing off the darker side of the lurid dream that Cage's Yuri Orlov is living out. Equal parts funny and frightening, it's a film that's so much fun, the really harsh stuff hits all the harder when it comes home to roost.
CinemaBlend's James Bond (expert). Also versed in Large Scale Aggressors, time travel, and Guillermo del Toro. He fights for The User.