How Han Solo Will Play Into Star Wars: The Last Jedi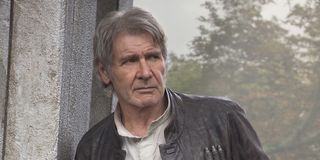 If you're a longtime Star Wars fan, then you were probably devastated to see Han Solo killed in Star Wars: The Force Awakens. Even worse, he met his demise at the hands of Kylo Ren, his own son. Sadly, there's isn't a miraculous resurrection in store for the Rebel hero, so don't expect to see Harrison Ford popping back up in a galaxy far, far away. However, because The Last Jedi takes place immediately after The Force Awakens, Han's presence will still be felt in the movie, particularly through Rey, who despises Kylo for taking away her father figure. Daisy Ridley explained:
Even though Rey and Finn didn't know Han Solo for that long, it was clear that he left a distinct impression on both of them; especially Rey. Had things gone differently, she might have joined him and Chewbacca for smuggling runs on the Millennium Falcon. But Kylo Ren cut short any hope of Rey and Han growing closer when he stabbed his father with that crossguard lightsaber and let him fall into Starkiller Base's reactor. Rey already knew Kylo was a menace, but now, to borrow a frequently-used cinematic expression, it's personal. Director Rian Johnson also confirmed that Han's "ghost" will loom over The Last Jedi, though he quickly added that it wouldn't be the glowing Force kind. In his words:
There's nothing Rey can do that will bring Han Solo back, but she may end up working out her aggression if she comes face-to-face with Kylo Ren again. In the same EW article, Rian Johnson described Rey and Kylo as "two halves of the dark and the light," and when we reunite with him, he'll still be "knocked off base" from his defeat on Starkiller Base, where Rey scarred his face and resisted his attempts to sway her to the dark side. However, while Kylo still be conducting First Order business on the ground and in his TIE Silencer during The Last Jedi, he'll also be dealing with his act of patricide, and depending on what happens to him in the movie, he may realize that killing Han wasn't the brightest decision.
Star Wars: The Last Jedi opens in theaters on December 15, and even though Han Solo is deceased, fans can look forward to Alden Ehrenreich playing a younger version of the cocky smuggler in next year's Han Solo Anthology spinoff.
Your Daily Blend of Entertainment News
Connoisseur of Marvel, DC, Star Wars, John Wick, MonsterVerse and Doctor Who lore. He's aware he looks like Harry Potter and Clark Kent.