The Hunger Games And Twilight Are Getting A Theme Park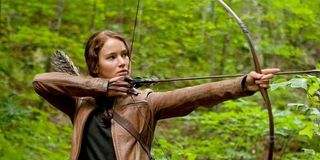 As movie franchises become more and more important parts of ongoing studio business, those studios also look for additional ways to leverage those franchises outside of the movie theater. This makes it far from surprising to learn that Lionsgate has entered into a deal that will build an entire theme park dedicated to its properties. The park will reportedly include entire areas dedicated to movies like the Twilight Saga and The Hunger Games.
Lionsgate Movie World is now being planned for construction in South Korea as part of a larger, already existing resort area called Jeju Shinhwa World. According to the press release, the theme park will cover 1.3 million square feet and cover seven different movie zones, in addition to the Twilight and Hunger Games areas, it will also include attractions dedicated to Now You See Me and the upcoming Robin Hood movie starring Taron Edgerton.
This will be the first theme park in the world dedicated exclusively to Lionsgate films. However, the studio does have its properties represented in other theme parks around the world. Dubai's Motiongate theme park includes a Capitol Bullet Train roller coaster, as just one example, but it sounds like rather than being individual rides, this part will have entire areas, and therefore potentially multiple rides, dedicated to each film.
Needless to say the idea of a Hunger Games Land, actually sounds mildly terrifying. One envisions walking into a large wilderness area where one is set upon by other park guests who might try to murder you while you're in line buying a churro. That may be a bit of an exaggeration, but some sort of Hunger Games laser tag or other competitive attraction would seem like the most obvious thing in the world. Though to do it right, the attraction should have an age limit so only teenagers are allowed to play in it.
While I can't imagine what a Twilight theme park ride would look like, the idea that there will be one is not a shock. Lionsgate has made no secret of the fact that the studio wants to continue both the Twilight and Hunger Games franchises and until the studio figures out how to do that on screen, Lionsgate will want to make money off the properties in other ways.
Now You See Me is an interesting choice for a dedicated land. With a third film on the way, it's a decently sized property, but it certainly doesn't have the fan base of Twilight. Dedicating a land to Robin Hood, a film that isn't even out yet, would seem to indicate that Lionsgate has some pretty serious expectations for that title, both that the film will do well, and that the franchise will grow. Although. if for some reason Robin Hood completely bombs it's probably early enough in construction that some changes could be made.
There will be three other lands whose themes have not been announced. With a quick glance at Lionsgate's history, a Saw themed area would seem like a likely choice, and, depending on what the long term plans are, a Power Rangers land is also certainly a possibility. No estimated opening date was given for Lionsgate Movie World, but construction only began earlier this year, so it will be several years before we see anything.
CinemaBlend's resident theme park junkie and amateur Disney historian. Armchair Imagineer. Epcot Stan. Future Club 33 Member.
Your Daily Blend of Entertainment News
Thank you for signing up to CinemaBlend. You will receive a verification email shortly.
There was a problem. Please refresh the page and try again.