13 Great Movies Coming To Netflix In September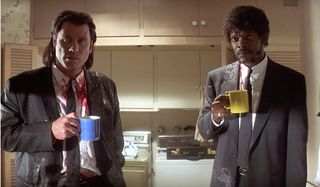 Netflix is adding a lot of exciting new titles into its streaming library for September, and it's obvious that not everything is an instant classic. However, there are some serious heavy hitters that are hidden in this list of many, and we're here to help you pick out the best of the best for your next random movie binge. So clear your calendar and prepare to add the following movies to your ever changing queue.
City of God
In the ranks of film about organized crime, Fernando Meirelles and Katia Lund's City of God is a movie that has earned its place among the heavy hitters of the genre. Weaving a tale of almost two decades of Brazilian crime, City of God also tells the story of how the Cidade de Deus neighborhood was developing from the 1960s straight through to the 1980s. But as most good crime dramas go, there are moments of intense realism, as well as some serious ethical questions laid at the feet of the characters on screen. Which is why almost 20 years after its initial release, the film still sticks with us to this day.
Dead Poets Society
This movie has always been, and will always remain, one of Robin Williams' finest films. Dead Poets Society is the type of flick that an inspired English teacher will show you in class, and either you're with it from frame one or it sinks in years down the road. But eventually, everyone finds themselves on that desk, shouting "Oh captain, my captain". It's a good place to be, and this is the movie that gets you there.
Disney's Mulan
We don't know if you've heard this, but Disney's been in the habit of remaking their animated films into live action spectacles. It's crazy, we know, but Mulan is one of those movies on the list for such treatment. Which makes it even more convenient that the Disney original is on Netflix's streaming library, because not only can we relive our favorite moments from the film, we can hope that the folks behind the live action version are using it as a reference on how to get their new translation right.
Gangs of New York
The shorthand version for why you should see Gangs of New York is the following: it's the movie that started Leonardo DiCaprio in the business of working with Martin Scorsese. However, the longer sell would include the fact that DiCaprio is part of a cast that includes John C. Reilly, Cameron Diaz and Daniel Day Lewis, all working at the top of their game. It's an epic tale of crime and revenge in the still-developing New York City, and it's a grand way to spend an afternoon in front of the TV. So yeah, if you needed more of a reason to see this one, we're glad to have helped out.
Gone Baby Gone
Ben Affleck and Dennis Lehane have had a bit of a loose association, considering they're both big fans of their Boston stomping grounds, and Affleck got his start as a director adapting a Lehane novel. That novel was Gone Baby Gone, and you could hear a pin drop after the film debuted to audiences who thought Affleck directing was going to be a joke. This film is far from funny, as its central mystery not only plays out with expert timing, but forces its audience to ask itself a big question once everything is said and done. And that question isn't easy to answer, but this movie is easy to admire.
Jaws
Just when you thought it was safe to leave the water, Jaws proves that yeah, leaving the water is probably a good idea. With the heat of summer behind you, it's a good time to look back on those times you were able to enjoy the beach without thinking a shark was out to get you. Though when it comes to just enjoying Steven Spielberg's resume busting hit, there's never a bad time to enjoy some beach action on the shores of Chief Brody's beloved Amity Beach.
Pulp Fiction
Good scripts are more than a little difficult to find, and great scripts are even harder. But a script that not only makes for a great movie, but also a very quotable one? That's like a golden briefcase, or your dad's watch, or even a Big Kahuna Burger. It just sticks with you, and you can't shake it, much like the movie that delivers on all that, and then some, Pulp Fiction. Ready to bend your mind with its non-linear storytelling and stick a song in your ear with its choice soundtrack, an all=star cast breathes Quentin Tarantino's classic to life, and it's just as slick as it was back in 1994. Pretty please, with sugar on top, watch this damned movie.
Requiem for a Dream
There are two types of people: folks that have seen Requiem for a Dream and those who have only heard the hushed whispers about how it's a movie you only see once. That's probably scared off a good number of people from seeking it out to watch, but seeing as it's on Netflix now, there's no excuse to miss Darren Aronofsky's tale of a drug-related spiral into the dregs of addiction. So muster up the courage, watch it in one sitting with the lights off and reassure yourself that you can always watch the new episodes of Fuller House afterwards.
She's Gotta Have It
Another unique voice in American filmmaking, Spike Lee's She's Gotta Have It was his debut as a triple threat of acting, writing and directing, and it's a pretty bold statement. A trailblazing film about young Nola and the three men vying for her attention, it embraced the idea of a sexually liberated woman in a time where it wasn't as socially accepted as today. You can really see Lee's voice starting to develop with this film, and it's just as much a milestone film for the independent circuit as it was back in 1986.
The Squid and the Whale
Noah Baumbach has a way with two things in particular: the city of New York and awkward personal relationships. Both are present in his film The Squid and the Whale, his fourth film as a director and one of our picks for September. With Jeff Daniels and Laura Linney as parents, you'd think things would be easy, but not in the world of this film. In fact, the divorce of their parental characters make for a rather trying time between their two sons, one of which is Jesse Eisenberg in a career making performance. If you're looking forward to The Meyerowitz Stories (New and Selected), this is practically required viewing.
Like Crazy
If you're looking for a double feature of tumultuous relationships, Like Crazy is going to be your first stop in this month's new releases. Drake Doremus' meditation on long distance relationships, and the pitfalls of couples in general, helped put Felicity Jones and the late Anton Yelchin on the map, and for good reason. Their characters are a couple of kids you really want to see make it out together, and each setback hurts as much as the expressions on their faces would have you believe. Save this one for a day you know you'll be able to recover from it.
Disney's Beauty and the Beast
Tale as old as time, box office champ of 2017, able to send Disney obsessives into a fit of excitement, Beauty and the Beast will finally hit Netflix in September. So now fans of the movie will be able to learn the words to songs like "Evermore" or "How Does A Moment Last Forever," in case Disney ever decides to re-release the film into theaters as a sing-along. And if you haven't had a chance to enjoy the film for yourself, don't worry: odds are you have at least two friends who will help you make time to see it. Watch this one on the best TV you can find, as it's a visual feast for the eye.
Carol
The other half of our tumultuous relationship double feature is none other than Todd Haynes' Carol. More of a period piece than Like Crazy, the film examines the rocky path of love between Cate Blanchett's titular character and Rooney Mara's Therese. In true Haynesian fashion, the director explores this drama of a love that dare not speak its name through the lush lens of the past, evoking both a look and a society that both contribute to the trials ahead. If you thought Like Crazy put your heart through a ringer, just wait until you meet Carol.
CinemaBlend's James Bond (expert). Also versed in Large Scale Aggressors, time travel, and Guillermo del Toro. He fights for The User.