Fuller House Season 3: What We Know So Far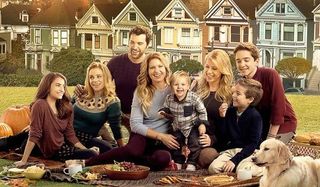 Fuller House was one of Netflix's most ambitious series when it hit the web in February of 2016 as a sequel to the hit '90s sitcom Fuller House. The show brought back most of the original cast for a plot that was basically a redo of the original plot, just starring the next generation of the Tanner family. Fuller House could have been a huge flop; instead, viewers tuned in by the droves to turn it into one of Netflix's biggest successes to date.
Netflix went ahead and renewed Fuller House for a Season 2 shortly after the Season 1 premiere, and Season 2 debuted in the end of December to give us another look at the lives of the extended Tanner family and their zany shenanigans. Now we've compiled all the details currently available about the future of Fuller House. Take a look at our breakdown of what we know so far about Season 3!
Is Fuller House Already Renewed?
The Full House sequel was renewed for Season 2 less than a week after Season 1 premiered in full on Netflix. The largely negative reviews from critics didn't deter Netflix from moving forward with another batch of episodes at that point, so the question on many viewers' minds after watching Season 2 was how long we would have to wait before news - good or bad - of a Season 3.
Well, fans had to wait a little longer for news of Season 3 than they did for news of Season 2, but it still took less than a month for Netflix to reveal the future of Fuller House. The show officially got an order for a third season by the end of December, and viewers were able to head into the holidays certain of more episodes in the new year.
How Fuller House Did In Season 2
Netflix has never shared its ratings or viewership numbers with the public, so we don't officially know how well Fuller House did in Season 2 or how it compares to Season 1. That said, ratings measurement company Symphony Advanced Media uses its own method for calculating ratings and viewership for various Netflix series, and Fuller House didn't do so well in Season 2.
If Symphony's numbers are accurate, the first three days of Fuller House Season 2 averaged only a 2.01 rating in the important 18 - 49 age demographic, with the premiere only scoring a 3.32 in the key demo. Both numbers represent drops of more than 60% from the previous season. There were plenty of variables that likely played into the drops between seasons, and the lower numbers obviously weren't bad enough to discourage Netflix about the future of Fuller House.
How Many Fuller House Episodes Fans Will Get
The first two seasons of Fuller House ran for 13 episodes each, which led many fans to believe that the third season would score another order for 13. It came as a welcome surprise on December 31 when creator and executive producer Jeff Franklin hit social media to share the news that Season 3 would be longer than Seasons 1 and 2. In fact, it will be longer by five episodes. Season 3 will run for 18 episodes on Netflix.
Jeff Franklin's announcement came via Instagram only days after we received confirmation of the renewal. It was clear that the Fuller House team wasn't wasting any time in getting back to work. They have a lot to do with the super-sized season, so hopefully they're busy getting things ready for the next set of episodes.
When Will Fuller House Premiere?
The only downside of getting a Season 3 renewal order so relatively soon after the debut of Season 2 is that it may be a while before we find out some of the key details of when the new episodes will hit the web. No date has yet been announced about when Season 3 will premiere.
Of course, the data available for Seasons 1 and 2 mean that speculation for the Season 3 release isn't too hard. One source estimates that production and filming would likely take 9 - 10 months, making a Season 3 premiere date in mid- to late October 2017. Another theory is that Season 3 could make an earlier premiere in order to coincide with the 30th anniversary of the Full House premiere back in 1987. Jeff Franklin actually purchased the original Tanner house when it hit the market in 2016, and he has said that he plans on doing some restructuring and filming at the house for Season 3. The renovations will reportedly conclude in September; perhaps they'll end soon enough for Season 3 to wrap with some scenes shot in the original home.
Who Is Returning To Fuller House?
There have been no official announcements about who will be back for Season 3, but we can bet that Candace Cameron Bure, Jodie Sweetin, and Andrea Barber will be back to reprise their leading roles as D.J., Stephanie, and Kimmy. The young actors playing D.J.'s and Kimmy's kids will almost certainly reprise their roles as well, although it's far too early to say how much they'll appear in Season 3. Events of Season 2 indicate that Scott Weigner will be back as Steve and John Brotherton will be back at Matt. All things considered, Virginia Williams will need to appear at least a little bit as C.J. after her character thickened the plot of the love triangle in Season 3.
Full House stars John Stamos, Bob Saget, Dave Coulier, and Lori Loughlin all played their characters in a recurring capacity in both Seasons 1 and 2. It's likely that they'll all turn up yet again in Season 3. These four actors have been key in giving Fuller House a distinctly Full House feel, and the big Thanksgiving episode in Season 2 just wouldn't have felt right without everybody on board. Hopefully they'll all return for Season 3.
What Have We Seen So Far?
Fuller House does not seem to be filming for Season 3 just yet, so we haven't seen any footage or behind-the-scenes pictures of what to expect from any upcoming episodes. Jeff Franklin's reveal that he bought the original Full House home with the intention of renovating the interiors to resemble those of the set indicates that we'll see more of the inside of the Tanner home. We can't really say otherwise what sets will appear and which actors will film on them.
Have Any New Characters Been Announced?
No new characters have yet been confirmed for Fuller House Season 3. The ensemble of main and recurring cast is already pretty big, so the show theoretically wouldn't need to bring in any major new characters to have plenty going on. Still, the ensemble was plenty sizable in Season 1, and Fuller House didn't hesitate to bring in fresh faces for Season 2 with the likes of Joey's wife and Kimmy's brother. We can bet that some newbies will appear in Season 3. We'll just have to wait and see who they'll be and which characters they'll be connected to in the new season.
Who D.J. Picked
One of the biggest dangling plot threads from Season 1 to Season 2 was the love triangle between D.J., dreamy veterinarian Matt, and former flame Steve. Season 1 ended with D.J. ready to get back into the dating game after the death of her husband, but she was torn between her potential love interests. While Matt represented charm and stability, the sparks between D.J. and Steve clearly survived the passage of time.
Season 2 revealed that D.J. was set to choose Steve at the beginning of the season, but the window of time for them to restart their romance passed. D.J. ended Season 2 with Matt while Steve ended it engaged to new lady love C.J. The high school lovebirds clearly care about each other, and fans seem to be Team Steve over Team Matt, so we may see D.J. and Steve revisit their relationship again in Season 3.
D.J. Tanner-Fuller
Fuller House Season 1 had D.J. juggling romantic woes with motherhood, and Season 2 was not especially different on that front. While she had to plan baby play dates and try to talk her son out of dangerous activities and throw the perfect holiday gatherings for her family, she also had to choose between two eligible love interests...who just so happened to move on from her while she was thinking over her options. D.J. was lonely after she realized that both Matt and Steve had moved on, and she went through a few ordeals as she tried to find love in different places. As one of those places involved a date with a much older man (played by Alan Thicke), her ultimate happy ending with Matt is a big relief. She ends Season 2 in a more balanced place thanks to her love for her huge extended family and her stable relationship with Matt. Sure, there are still feelings for Steve just waiting to complicate everything in Season 3, but at least she has happiness and contentment with her family for now.
Stephanie Tanner
Stephanie put more focus on her music career in Season 2, even releasing a music video. Unfortunately, the music video flopped online, and her song wasn't taking off quite as well as she hoped. Her relationship with Jimmy - which only managed to develop after Stephanie got over the fact that she kissed a Gibbler - brought some fun on the romantic front after she struck out a few times in earlier attempts at love. She continued to be pretty much the coolest aunt ever to D.J.'s kids. If we're lucky, we'll get to see even more development of Stephanie's career and love life in Season 3.
Kimmy Gibbler
Kimmy got to bust out her dance moves more than a few times in Season 2, and not always with great success. She had to deal with some complications on the home front when her homeless ex-husband-turned-fiance Fernando moved into the Fuller-Tanner household in the beginning of the season, but she continued to try and rebuild their relationship. Kimmy faced some new trials and tribulations as her daughter Romona started out on a difficult period in her life, but she was able to rely on D.J. and Stephanie to help her out whenever she needed a friend.
What's Going On With Michelle?
The one major character from Full House who has not appeared in the flesh on Fuller House so far has been none other than youngest Tanner daughter Michelle. The on-screen reason for Michelle's absence during key scenes like holidays has been that Michelle is too busy running her fashion empire in New York to visit her family in San Francisco. The show has managed to sneak in references to Michelle, as when it indicated that Jesse was chatting with her on the phone off-screen and when Kimmy bought one of Michelle's dresses for her daughter Ramona. The show hasn't closed the door on a Michelle appearance in a future season, so there's a chance that we'll see her in Season 3.
Could The Olsen Twins Appear In Season 3?
The only reason why Michelle has remained off-screen running her fashion empire has actually been that neither Mary-Kate nor Ashley Olsen was willing to reprise the role of Michelle. The Olsen twins have previously said that they moved on from their acting careers to focus on their real-life fashion business, and they've spent so much time behind-the-scenes in showbiz that they weren't entirely comfortable returning to the limelight in front of the camera.
The twins have not definitively ruled out appearing for at least a cameo on Fuller House, and John Stamos seems to be on board with incorporating Michelle into the plot at some point. If they don't turn up for Season 3, we can at least bet that we'll get more hilarious (and awkward) nods at their absence in future episodes.
Stay tuned to CinemaBlend for the latest news on Fuller House. We may not know at this point when Season 3 will hit Netflix (opens in new tab) in 2017, but you can check out our Netflix premiere schedule to see what else you can catch on the streaming service in the coming weeks. Don't forget to take a look at our midseason TV premiere schedule to see what you can watch on the small screen.
Your Daily Blend of Entertainment News
Laura turned a lifelong love of television into a valid reason to write and think about TV on a daily basis. She's not a doctor, lawyer, or detective, but watches a lot of them in primetime. Resident of One Chicago, the galaxy far, far away, and Northeast Ohio. Will not time travel, but will sneak references to The X-Files into daily conversation.
Your Daily Blend of Entertainment News
Thank you for signing up to CinemaBlend. You will receive a verification email shortly.
There was a problem. Please refresh the page and try again.