Killing Gunther Trailer: Watch Taran Killam Try To Assassinate Arnold Schwarzenegger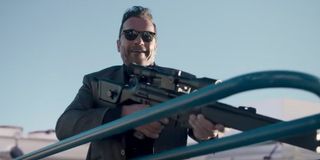 When he isn't performing on stage as part of the Hamilton ensemble, or charming interviewers alongside his lovely wife Cobie Smulders, Taran Killam is an assassin. OK, fine, not really. But he does play one in his directorial debut Killing Gunther, a comedy that finds the former Saturday Night Live funnyman going after a very famous target: Arnold Schwarzenegger. For real. Watch the first trailer for Killing Gunther right here:
The premise of Killing Gunther seems simple enough. A team of would-be assassins are trying to make a name for themselves by knocking off the current Top assassin in the world. That would be Gunther, and he's being played by our industry's most charismatic and winkingly in-on-the-joke action icon, Arnold Schwarzenegger. The concept sounds great on paper, but only works if you really GET Schwarzenegger for the part of Gunther. Lucky for Taran Killam, the former Terminator and one-time Predator hunter was down for the gag.
The "unstoppable team" put together by Taran Killam's character, Blake, is a who's who of recognizable funny folks. Bobby Moynihan -- about to star in his own sitcom -- plays explosives expert Donnie "Boom Boom" Piznowski. Amir Talai plays Izzat, a "Cyborg" with a metallic hand. And you can expect Cobie Smulders to pop by in a cameo role. We can only hope that she's playing S.H.I.E.L.D. agent Maria Hill, and Killing Gunther somehow becomes part of the Marvel Cinematic Universe.
If Taran Killam knows what he's doing, he will have loaded up his Killing Gunther screenplay with an endless stream of new one-liners for the soundbite machine that it Arnold Schwarzenegger. Yes, we cringed a little when Arnold defaulted to "They are going to get terminated." But the last shot in the trailer, of Gunther punching Killam's Blake repeatedly, suggests that this could be a dark comedy that delivers surprising laughs. At the very least, the whole cast looks to be having fun with the surreal notion that they are hunting a larger-than-life Schwarzenegger. It's like bringing a piece of one's childhood to life, so you can kill it.
Killing Gunther will work its way to theaters on October 20, but apparently is going to stream on-demand much sooner than that. Like, September 22, via Ultra VOD. This seems like the kind of comedy you'd want to watch with a rowdy crowd, but at least you'll have options. Speaking of keep up to date with everything streaming on Netflix, and make sure you scan our Upcoming Movie Releases list to see what movies are opening, when.
Managing Director at CinemaBlend. ReelBlend cohost. A movie junkie who's Infatuated with comic-book films. Helped get the Snyder Cut released, then wrote a book about it.
Your Daily Blend of Entertainment News
Thank you for signing up to CinemaBlend. You will receive a verification email shortly.
There was a problem. Please refresh the page and try again.