Why Jonah Hill Hated Working With Christopher Mintz-Plasse On Superbad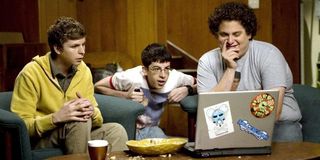 Ten years after Superbad first hit theaters, the R-rated, coming-of-age comedy has already become a modern classic. In part, that's because it helped launch the careers of quite a few popular actors working today, including headlining stars Jonah Hill and Michael Cera. One of the names that people immediately associated with the comedy, however, is Christopher Mintz-Plasse, because of his unforgettable performance as unwisely confident nerd McLovin. A decade later, Hill now admits that he started off hating his costar because Hill didn't think the younger star was very professional during the audition process.
The hate started with the audition scene for Christopher Mintz-Plasse, which featured the character he ended up playing's famous reveal of his fake McLovin ID to Jonah Hill's Seth and Michael Cera's Evan. The dialogue calls for some strong words between Seth and Mintz-Plasse's Fogell and, apparently, the two-time Academy Award nominee found that Mintz-Plasse's take really rubbed him the wrong way. With no film experience to date, Mintz-Plasse initially came off to Hill as overly aggressive and in danger of sabotaging Hill's own performance. Seth Rogen, meanwhile, fills The Ringer in with his own recollection of what occurred, revealing that he found comedy gold in the actor conflict.
With this peek behind the scenes of Superbad, it's easy to see why Seth Rogen and Evan Goldberg have emerged as such successful storytellers. As much fun as it is to be on a film set surrounded only by friends, knowing how to get a great performance from two actors who don't necessarily get along tends to make for a more dramatic narrative. While tempers hopefully settled by the time Jonah Hill and Christopher Mintz-Plasse were actually shooting, their dislike for one another as characters in the final film is certainly palpable.
Fortunately, it seems like Jonah Hill and Christopher Mintz-Plasse moved past that original audition. Both actors would go on to lend their voices to characters in the animated How to Train Your Dragon franchise. Plus, Hill and Mintz-Plasse both played themselves in This is the End, the official directorial debut for Superbad scribes Evan Goldberg and Seth Rogen. Mintz-Plasse has several other projects in his filmography alongside Goldberg and Rogen, including both Neighbors films and the upcoming The Disaster Artist. The Tommy Wiseau biopic, directed by James Franco, details the making of the infamously terrible feature film, 2003's The Room. Look for The Disaster Artist to hit theaters this December. Hill, meanwhile, is gearing up to direct his own first feature, a coming of age drama called Mid-90s.
Now that Superbad is turning 10, we'll keep you posted if any other fun stories from the set emerge.
Your Daily Blend of Entertainment News
Thank you for signing up to CinemaBlend. You will receive a verification email shortly.
There was a problem. Please refresh the page and try again.