Aubrey Plaza And Michael Cera Almost Got Married In Las Vegas Once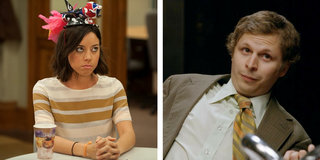 (Image credit: Parks & Recreation, Wet Hot American Summer: First Day of Camp)
Apparently, we all totally missed what must have been Hollywood's most offbeat couple a few years back. Aubrey Plaza revealed earlier this week that she and Michael Cera had actually dated for about a year and a half around 2009 and 2010. Not only dated, but the two actors even almost got married without anybody knowing!
Aubrey Plaza spilled the previously unknown relationship details on Wednesday's episode of RuPaul and Michelle Visage's interview podcast What's The Tee? After RuPaul acknowledged that most fans probably know Plaza from her breakout role as the surly and apathetic parks department worker April Ludgate in Parks & Recreation, he said that he became a fan after seeing her in the 2010 action comedy Scott Pilgrim vs. the World, which starred Michael Cera. Without missing a beat, Plaza revealed that she actually started dating Cera while making that movie.
Aubrey Plaza went on to clarify that she and Michael Cera drove from Chicago to Los Angeles together after Scott Pilgrim vs. the World, but apparently the wedding pitstop in Vegas didn't actually wind up happening. She goes on to say that they had not met before production on the film started in March of 2009 in Toronto, but fell in love with each other while working on the movie. And though they broke up in either 2010 or early 2011, she says that they are still close to this day.
Since her relationship with Michael Cera, Aubrey Plaza has been in a long-term relationship with writer and director Jeff Baena since 2011. Michael Cera's only other known relationship was with actress Charlyne Yi. Though Cera and Yi dated for three years, the relationship was speculated to be a publicity stunt for their 2009 rom-com Paper Heart. The pair broke up shortly after the film was released, and that would have been around the time Cera was beginning to film Scott Pilgrim and met Plaza.
Though Scott Pilgrim vs. the World opened to disappointing numbers at the box office, it attained a cult following and many members of its cast went on to achieve massive success in Hollywood, such as Chris Evans and Brie Larson.
You can listen to Aubrey Plaza recount her relationship with Michael Cera in her own words below, starting at around the 32:50 mark.
Your Daily Blend of Entertainment News