Why J.J. Abrams Is The Perfect Choice To Direct Star Wars: Episode 9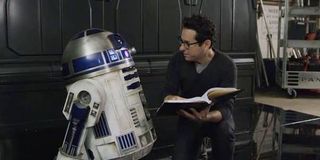 In the end, it was either going to be Rian Johnson or J.J. Abrams. Lucasfilm went with the creative genius who helped launch this rejuvenated phase of Star Wars movies, handing the reins of Star Wars: Episode IX to J.J. Abrams in a move that probably surprises no one but should delight all of us.
Why? Because if the Star Wars universe needs anything right now, it's stability. Which is insane to think, after only two current movies in the pipeline of what could be decades of Star Wars movies. Star Wars movies should be safe bets. The built-in audience for these new movies -- particularly the Saga movies that re-started with Star Wars: The Force Awakens -- are enormous. Kids might not be fired up for a Han Solo film, or a Jabba the Hutt story. But multiple generations dialed into the new plotline involving Rey (Daisy Ridley), Finn (John Boyega), Kylo Ren (Adam Driver) and Snoke (Andy Serkis), and Episode IX has the potential to be bigger than massive... IF Lucasfilm can stick the landing.
J.J. Abrams can stick the landing. More than that, he can (and will) deliver the conclusion that this trilogy needs. Most of the seeds of the new Skywalker saga started with Abrams' story points in The Force Awakens. We, as fans, ask questions about Rey's heritage, about Luke's exile... these are plot points and storylines that J.J. has to be aware of at the nascent stage, and giving him the opportunity to follow them to their natural conclusion makes the most sense right now.
Also, and this bears repeating, Star Wars: The Force Awakens is a great Star Wars adventure. Did it replicate Star Wars: A New Hope? In some ways. But it also reinvigorated a brand that had been damaged by the man who brought Star Wars to life in the first place. Fans heading into The Force Awakens didn't know if they were getting another New Hope, or The Phantom Menace.
As for J.J. Abrams, I have to believe that his success on Star Wars: The Force Awakens can and will only empower him to dive into Episode IX with more confidence and a renewed sense or purpose. He has said on the record that the fear of possibly screwing up a franchise he held in such regard might have affected some of his decisions in the grand scheme of The Force Awakens. I don't think any of that doubt will hold Abrams back as he prepares to conclude the saga he started in 2015.
Right now, the Star Wars universe is still dealing with a little egg on its face. High-profile firings of Phil Lord, Chris Miller and Colin Trevorrow don't do a lot to instill confidence in the direction of the developing universe. But bringing J.J. Abrams back into the fold to land Star Wars: Episode IX isn't just the right call, it's a perfect step to settle the fan base, keep schedules on track, and hand the creatives on the pivotal story over to a talented filmmaker who lives and breathes Star Wars.
Managing Director at CinemaBlend. ReelBlend cohost. A movie junkie who's Infatuated with comic-book films. Helped get the Snyder Cut released, then wrote a book about it.
Your Daily Blend of Entertainment News
Thank you for signing up to CinemaBlend. You will receive a verification email shortly.
There was a problem. Please refresh the page and try again.