How Bad Moms Christmas Will Avoid Repeating The Original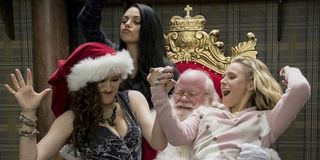 The sixteen month gap between the release of Bad Moms and its impending sequel A Bad Moms Christmas means that the writing and directing team of Jon Lucas and Scott Moore had little to no time to try and come up with an idea for the sequel.
But rather than resting on their laurels and simply rehashing what made the original comedy so popular, while hardly altering the plot, those involved in the creation of the film were adamant that A Bad Moms Christmas would stand on its own. This was a point that A Bad Moms Christmas' leading trifecta of actresses -- Kristen Bell, Mila Kunis, and Kathryn Hahn -- underlined when we visited the set of the comedy in Atlanta earlier this year. After being asked how they made sure that A Bad Moms Christmas avoided repeating the original, both Kristen Bell and Mila Kunis insisted that the addition of Susan Sarandon, Cheryl Hines, and Christine Baranski changed the whole dynamic.
Scott Moore and Jon Lucas quickly echoed these sentiments, insisting that they have felt just as cheated and been just as peeved as other moviegoers when they've watched a sequel that just lazily rehashed the first film. But while Jon Lucas admitted that there were plenty of obstacles they had to look out for, he opined that having the terrific charisma and chemistry of their three leading actresses always gave them an advantage.
We'll finally be able to see if A Bad Moms Christmas can actually build upon its surprisingly successful original, while also avoiding the trappings that Kathryn Hahn, Kristen Bell, Mila Kunis, Scott Moore, and Jon Lucas were all clearly aware of, when it is released on November 1.
Your Daily Blend of Entertainment News
Your Daily Blend of Entertainment News
Thank you for signing up to CinemaBlend. You will receive a verification email shortly.
There was a problem. Please refresh the page and try again.