A Bad Moms Christmas Is Adding Even More Bad Moms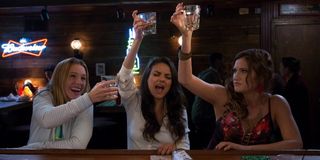 After grossing $184 million at the box office last summer, it was little surprise when a Bad Moms sequel was greenlighted. Bad Moms Christmas isn't just going to give the film a festive tinge but it is actually going to introduce us to a whole host of new characters, primarily Amy, Kiki, and Carla's very own mothers. We now know exactly who is going to be playing these women, too, and the film has knocked it out of the park with its casting because Christine Baranski, Cheryl Hines, and Susan Sarandon have all been added to its cast.
STXfilms have confirmed that Christine Baranski will play the mother of Mila Kunis' Amy, Cheryl Hines will be mother to Kristen Bell's Kiki, while, most tantalising of all, Susan Sarandon will be the mother of Kathryn Hahn's Carla Dunkler. The latest press release regarding Bad Moms Christmas not only celebrated the fact that production has now begun on the film in Atlanta, Georgia, but it also revealed that Amy, Kiki, and Carla each receive a holiday visit from their own mothers, which is obviously going to lead to increased hijinks.
Bad Moms proved to be one of the surprise hits of the summer. Released towards the end of July, it provided a welcome relief to the cavalcade of blockbusters that had been populating cinemas around that time. While it was roundly acknowledged that the film didn't quite get the full potential out its cast, it was agreed that Mila Kunis, Kristen Bell, and Kathryn Hahn made a superb comedic trifecta, which is something that Bad Moms Christmas will hopeful take more advantage of. The addition of Susan Sarandon to the cast makes that seem more and more likely, too, as the 70-year-old actress has more than proven her own comedic worth over the years, most recently in the criminally overlooked comedy The Meddler from 2015.
The decision to add Christine Baranski and Cheryl Hines to the cast is just as impressive, too, as between them they boast the likes of The Big Bang Theory, The Birdcage, Dr. Seuss' How The Grinch Stole Christmas, The Good Wife, and Curb Your Enthusiasm, Son Of Zorn, and Wilson as credits. But considering just how much Kathryn Hahn stole the original film, and just how delightful Susan Sarandon is onscreen, it's their combined presence that has made me take immediate further interest in Bad Moms Christmas.
It's not just Susan Sarandon, Christine Baranski, and Cheryl Hines that have joined Bad Moms Christmas, as Peter Gallagher and This is Us'Justin Hartley have also been added to the cast, while Jay Hernandez, David Walton, and Wanda Sykes are each returning, as are the original writer and directing team of Jon Lucas and Scott Moore. The crew is going to be hard at work over the next few months, because Bad Moms Christmas will hit cinemas on November 3 of this year. Take a look at what else is coming with our full schedule.
Your Daily Blend of Entertainment News