What Happened To Sif After Thor: The Dark World, According To Kevin Feige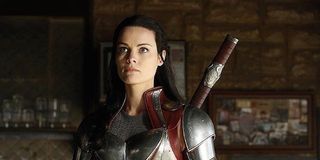 Warning: possible spoilers ahead for Thor: Ragnarok! Read ahead at your own risk!
Compared to other members of The Avengers' roster, Thor Odinson seems relatively social. He keeps a trusty band of warriors at his side throughout many of his adventures, and one of the most beloved Asgardians is Lady Sif. However, we have not seen or heard anything from this mighty fighter on the big screen since the events of Thor: The Dark World, and with the exception of her cameo on Agents of S.H.I.E.L.D. a few years back, leading up to Thor: Ragnarok her whereabouts remain a mystery. On that note, CinemaBlend's own Eric Eisenberg recently questioned Marvel Studios President Kevin Feige about this, and he explained that Loki used the power of Odin's throne to get rid of her. Feige elaborated:
Based on Kevin Feige's comments to CinemaBlend about where everyone stands when Thor: Ragnarok opens, it seems that Lady Sif (Jaimie Alexander) is still probably out there. She's just not allowed into Asgard at this time. After secretly taking the throne and disposing of his father, Loki made a few critical adjustments to the Asgardian political sphere in an attempt to make ruling easier. Among these decisions was the choice to get rid of Lady Sif -- a well-known ally of Thor, and a frequent doubter of Loki's integrity.
Such an explanation makes plenty of sense, as we already know that Loki went to work cleaning house and purging the Odin loyalists after stealing the throne for himself. In addition to banishing Lady Sif, he similarly turned Heimdall (who, based on the trailers, has seen better days) into an outlaw fighting for survival.
Of course, arguably the most exciting thing to note about Lady Sif's banishment from Asgard is the fact that it means she is off fighting somewhere in the ever-expanding Marvel Cinematic Universe. This doesn't necessarily indicate whether or not she will show up at some point during the events of Thor: Ragnarok, as we've seen people return (and not return) from banishment before. Maybe a Marvel One Shot can catch up with Sif to see what she has been doing? Until we learn that she has actually been killed, she remains a viable ally for Thor somewhere down the line -- possibly even when Thanos shows up during the events of Avengers: Infinity War next year.
Thor: Ragnarok will smash its way into theaters on November 3. Until then, here's everything that we currently know about the God of Thunder's upcoming adventure, as well as a link to get your advanced tickets (opens in new tab) for the next MCU movie. And make sure to take a look at our 2017 movie premiere guide and our 2018 movie premiere guide to see what other debuts Hollywood has in store over the course of the next year.
Originally from Connecticut, Conner grew up in San Diego and graduated from Chapman University in 2014. He now lives in Los Angeles working in and around the entertainment industry and can mostly be found binging horror movies and chugging coffee.
Your Daily Blend of Entertainment News
Thank you for signing up to CinemaBlend. You will receive a verification email shortly.
There was a problem. Please refresh the page and try again.