10 Disney Characters Who Almost Had Totally Different Voices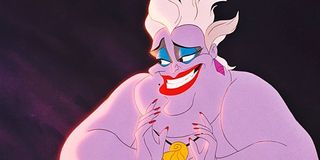 Ever since Robin Williams voiced the Genie in Aladdin, Disney has been looking toward major celebrity names to voice characters in their animated films. While not every voice role is filled by a movie star, most major Disney Animation Studios releases will have at least one big name in it. However, just being a celebrity doesn't mean you'll get the job.
Several times in the past Disney has had some pretty big names in mind to join their voice cast family that simply haven't worked out. The reasons are as varied as the roles, but one thing is for sure, if these actors had been cast, the characters we know and love would have sounded very different. Here are 10 Disney characters who almost sounded very different.
Hades
Hades was the villain in Disney's Hercules and, while the movie isn't one of the studio's biggest hits, the villain is one of its most memorable elements. This is thanks to the performance of James Woods, but imagine what Hades would have sounded like if he'd been voiced by Jack Nicholson. Jack was a major inspiration for the character and some early concept art of Hades is clearly drawn with Nicholson in mind. The actor did meet with Disney to discuss the role, but he was apparently looking for a paycheck on par with his lead acting roles, something that Disney couldn't do.
Mushu
Before Eddie Murphy voiced Donkey in the Shrek movies, he added his voice to Mulan as the dragon sidekick Mushu. Joe Pesci was brought in to voice the character originally, but it was decided that the voice just wasn't working. Then, Disney had the idea to give the character two different personalities, with Pesci voicing one, and Richard Dreyfuss taking the other. This was apparently also scrapped. Eventually, Disney's head at the time Michael Eisner made the executive decision to bring in Murphy. It's unfortunate because Pesci has mostly retired from acting, which means we'll likely never hear him voice a Disney character.
Pacha
The Emperor's New Groove is one of Disney's oddest features. Part of the reason for this is that the film went through significant changes on the way to the screen. Originally, the plan was for the film to be called Kingdom of the Sun and the plot was going to be based on Mark Twain's The Prince and the Pauper. Owen Wilson was cast as Pacha to play opposite David Spade's lead, but when the movie went through the massive change into the idea it became, the studio decided Wilson was no longer right for the role, and brought in John Goodman.
Merida
Pixar's Brave was the studio's first film with a female protagonist. As such, they surely wanted the right voice behind the lead character of Merida. Originally, the studio had brought in Reese Witherspoon to voice the lead character, but it seems that she wasn't the right person for the job. Why not? By Witherspoon's own admission, her Scottish accent sucked. Pixar then went to actress Kelly Macdonald, who's actually from Scotland, so her accent worked out much better. Considering many of the other lead roles went to native Scots, this was for the best.
Rapunzel
Rapunzel found her voice in Tangled thanks to pop star and actress Mandy Moore. Prior to that, however, the girl with extra long hair could have sounded like a couple of other Disney princesses. Both Kristen Bell and Idina Menzel auditioned for the voice of Rapunzel. Luckily, neither was discouraged when they didn't get the part. They came back to audition for Frozen and were cast as the sisters Anna and Elsa. All three of them have become quite popular princesses, with Tangled getting a TV series and Frozen getting a big screen sequel. It looks like Disney made the right call all around.
Ursula
Ursula is one of Disney's great villains and Pat Carroll's performance in the role from The Little Mermaid is really the main reason for that. However, Carroll was only brought in after a pair of top contenders faltered. Facts of Life actress Charlotte Rae had many fans, but apparently, her vocal range didn't work for Howard Ashman's music. At that point, it looked like the role belonged to Broadway legend Elaine Stritch, but during her musical audition, she completely changed Ashman's song, messing with the tempo. Ashman apparently didn't take it well, and Stritch was out, too.
Marlin
The role of Marlin in Finding Nemo was originally given to William H. Macy. He apparently recorded a significant amount of the role, but the general feeling was that it just wasn't working. It's really not clear what the problem was. The performance was just missing a certain something. This led to Pixar eventually making the decision to scrap everything Macy had done and start over with Albert Brooks. While it's hard to imagine anybody other than Albert Brooks as the overprotective father in Finding Nemo, William H. Macy seems like somebody who could have done something great with the role.
Pretty Much Everybody In The Good Dinosaur
Voice acting is often done in the early stages of production of an animated feature. However, at Pixar, story ideas are always in flux and in the case of The Good Dinosaur, the story fluxed so much that the entire original concept was scrapped. This meant that complete performances from the likes of Neil Patrick Harris and Bill Hader were never used. We don't even know if their characters survived into the new version of the film. The role of Arlo's dad had belonged to John Lithgow, but in the final film, he was voiced by Jeffrey Wright.
Tiana
The Princess and the Frog was the last traditionally animated movie from Disney Animation Studios. It's also a unique film due to its use of jazz in the music. Disney found a solid voice in Anika Noni Rose to vice Tiana, but she wasn't the Dreamgirls cast member that the studio originally wanted. There were apparently talks with Beyonce at one point for the role, but the singer didn't want to have to audition. Apparently, even Beyonce has to earn the part in a Disney movie, so they looked elsewhere.
Prince Eric
This one is a little bit different as it wasn't a case of a major celebrity reading for a Disney role, but one who was about to become one. Jim Carrey actually read for the role of Prince Eric in The Little Mermaid. This was prior to his joining the cast of In Living Color, so he wasn't a name at the time, though he was on his way to becoming a huge star. One wonders how things might have been different if he'd been cast. It could have totally changed his image.
Your Daily Blend of Entertainment News
Content Producer/Theme Park Beat
CinemaBlend's resident theme park junkie and amateur Disney historian. Armchair Imagineer. Epcot Stan. Future Club 33 Member.
Your Daily Blend of Entertainment News
Thank you for signing up to CinemaBlend. You will receive a verification email shortly.
There was a problem. Please refresh the page and try again.