James Woods Is Suing A Guy Who Was Mean To Him On Twitter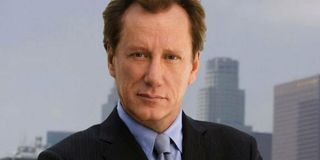 When the internet speaks, it certainly doesn't hold back. The ability to hide behind a computer screen enables users to become quite open about their opinions, especially when it comes to celebrities. Trolls of the interwebs usually get away with their harsh complaints and allegations. That is until actor James Woods got involved. One tweet in particular caught the attention of the Academy Award-nominated actor, and he has decided to take on the anonymous individual in a defamation lawsuit.
It's not every day you hear of a celebrity taking a random fans harsh comments to heart. But in this case Woods has just had enough of the commentary, and is out to make a point with this particular Twitter user. According to The Hollywood Reporter, James Woods is suing the individual tweeting under the name Abe List for defamation over a tweet that suggested the actor was a "cocaine addict". Woods is claiming that his reputation was damaged so much because of this tweet, that it is worth $10 million. That's a whole lot of money for an eight-word comment.
But, while the Abe List Twitter account has since seemed to be deleted, this wasn't the first time that the user had gone after the Salvador actor. In the lawsuit against Abe List it states that the account has engaged his followers in numerous childish campaigns of name-calling against Woods. Woods wants to take a stand, stating:
You may be thinking to yourself, how can someone's tweet bring this much attention? Well, in many of Abe List's derogatory tweets towards the actor, using terms like 'prick', 'joke', 'scum' or 'clown-boy' don't hold much weight in court, but "cocaine addict" is a statement that could be true or false and potentially rise to defamation. But in this case, because Woods is a public figure he'd have to show actual malice. And he also needs to identify who the Twitter user actually is. Overall, it doesn't sound like there's enough of a case to gain $10 million, but we'll just have to see how far this goes.
Your Daily Blend of Entertainment News