T'Challa Has Been Black Panther In The MCU For A Lot Longer Than We Thought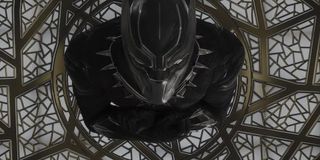 Just like in the comics, the Black Panther in the Marvel Cinematic Universe is a ceremonial title passed along to those in the ruling family of Wakanda who prove themselves worthy. The latest person to don this guise is Chadwick Boseman's T'Challa, and as was evident when we met him in Captain America: Civil War, he's more than earned the feline mantle. However, it turns out that T'Challa hadn't only been Black Panther for a few weeks or even months by that point. It turns out that he became the latest Black Panther shortly before Tony Stark revealed to the public that he was Iron Man.
As has been done with most of the MCU movies, Marvel has started publishing a Black Panther prelude comic book to shed light on how T'Challa became the legendary hero of Wakanda. In the first issue (via MCU News & Tweets), T'Challa is seen watching Tony Stark's shocking announcement on television, and when he meets with his father later, T'Chaka, comments on how his son has only held the Black Panther mantle for a week, and he already walks like he's been at it for a lifetime. The MCU timeline has become muddled since Spider-Man: Homecoming's release earlier this year, but even as just a rough guess, it appears that by the time we're introduced to T'Challa in Captain America: Civil War, he's been serving as Black Panther for nearly a decade.
Although movies like Captain America: The First Avenger and the upcoming Captain Marvel show that there have superheroes on Earth for decades in this universe, Iron Man's debut is generally considered to be when the MCU's modern age of heroes came to be (after all, his first movie kicked off this franchise). But after years of training, T'Challa began his own heroic duties just seven days before Tony Stark's debut, though unlike with the Iron Man reveal, presumably only the citizens of Wakanda knew about T'Challa's newly-bestowed honor. Normally it's Wakanda's king who serves as the Black Panther, but given T'Chaka's advanced age, it's not surprising that he passed on the title to his son, the then-prince. Of course, due to T'Chaka's murder in Captain America: Civil War, T'Challa now finds himself as the king of Wakanda when the Black Panther movie begins.
Taking place shortly after the events of Captain America: Civil War, Black Panther will follow T'Challa returning to Wakanda, the most technologically-advanced country on Earth. But before he can embrace his new royal duties, the main protagonist and his allies will have to deal with the combined threat of Erik Killmonger and Ulysses Klaue. As we count down the remaining months until Black Panther's release, check back at digital comic sites and/or your local comic book store next month for the second Black Panther Prelude issue.
Black Panther slashes its way into theaters on February 16, 2018. You can also look through our 2018 premiere guide to find out what other blockbuster will be shown on the silver screen next year.
Connoisseur of Marvel, DC, Star Wars, John Wick, MonsterVerse and Doctor Who lore. He's aware he looks like Harry Potter and Clark Kent.
Your Daily Blend of Entertainment News
Thank you for signing up to CinemaBlend. You will receive a verification email shortly.
There was a problem. Please refresh the page and try again.