The Thor: Ragnarok Supporting Characters Who Will Probably Return For More Movies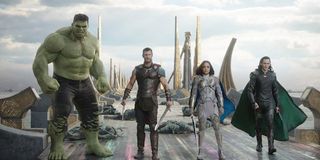 Thor's primary mission in Thor: Ragnarok will be trying to stop Hela, the Asgardian goddess of death, from unleashing the apocalyptic Ragnarok event to destroy Asgard. But before he can do that, the God of Thunder will need to survive his time on Sakaar, the gladiator planet ruled by Grandmaster. In addition to running into his work buddy Hulk while on this world, Thor will also meet inhabitants like Korg (seen above) and Miek, and according to Marvel Studios president Kevin Feige, there are plans to eventually bring these two back to the Marvel Cinematic Universe. Feige stated:
Sakaar is a tough world, but fortunately, Thor won't go long without having allies. Along with eventually settling his beef with Hulk after their big brawl, the Odinson will also be aided by Korg and Miek, and Thor: Ragnarok won't be the last we see of them. We'll have to wait and see where these two pop up again, though Kevin Feige did tell Fandango (opens in new tab) that there was talk about featuring the duo in a "little spinoff" akin to a One-Shot short film, where they would just be "going shopping and things." That particular idea didn't come to fruition, but if you walk out of Thor: Ragnarok wanting to see more of Korg and Miek, rest assured, they will return eventually.
Both Korg and Miek made their comics debut in Planet Hulk, and since the Sakaar portions of Thor: Ragnarok are partially adapted from that storyline, it's appropriate that they would be included in the movie. Like his comic book counterpart, Korg is a Kronan (one of which was previously seen in Thor: The Dark World), and he is being performed by director Taika Waititi. As for Miek (who doesn't have an actor since he doesn't speak), he hasn't been shown yet in the Thor: Ragnarok previews, but he's been described as being a "larva-like creature" who has cybernetic limbs. These two aliens are quite lucky that they'll be back for MCU installments, since most who are forced to fight on Sakaar are struck down in battle.
The future of the Thor franchise beyond Ragnarok is unclear (although both Thor and Loki will be back for Avengers: Infinity War and Avengers 4), so it will be while until we learn if Korg and Miek would return in a hypothetical Thor 4 or a different movie. Fortunately for them, Marvel's Phase Four is intended to widen the MCU's cosmic corners further, so it's not like there will be a shortage of opportunities for them to grace the silver screen, be it as supporting characters or fun cameos.
Thor: Ragnarok charges into theaters on November 3. Be sure to read our review of the movie, and browse through our 2017 premiere guide to find out what the year's other remaining theatrical releases are.
Your Daily Blend of Entertainment News
Connoisseur of Marvel, DC, Star Wars, John Wick, MonsterVerse and Doctor Who lore. He's aware he looks like Harry Potter and Clark Kent.