The Biggest Lesson DC Can Learn From Justice League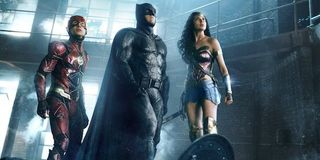 Zack Snyder's Justice League finally made its debut, and the response has been somewhat mixed from critics and audiences alike. The film nails some aspects of the DC lore and gets die-hard fans tremendously excited for the future, but it's also expected to take a pretty severe financial hit when all is said and done. Of course, Justice League isn't the end of the line for the DCEU, which means there are lessons to be learned as DC moves forward. On that note, Justice League makes it clear that DC needs to slow down in the creation of its cinematic universe and go back to basics.
At a lean two hours, Justice League is a crowded film, to say the least. It introduces three new core members of the League after the creation of the DC Trinity in Batman v Superman: Dawn of Justice and fleshes out the supporting casts for each of these heroes. That's all well and good, though it becomes clear around the point at which Aquaman (Jason Momoa) meets up with Queen Mera (Amber Heard) in Atlantis that Justice League is struggling under the weight of the mythology it's trying to lay out. In simple terms, there are just too many beloved DC personalities in this movie.
On the other hand, Wonder Woman worked well when it debuted this summer for the opposite reason. Although it had a few connections to Dawn of Justice, it more or less told an isolated story that allowed audiences to get more intimately familiar with the inner workings of Diana Prince (Gal Gadot). By the time Justice League debuted, we had understood her abilities and her personality, which therefore made her arguably one of the most accessible characters to empathize with. It wasn't concerned with table-setting; Patty Jenkins just wanted to tell a great story.
We're not saying that DC needs to go full Marvel Cinematic Universe and offer up a solo movie for every hero before the ensembles can happen. However, we are saying that Justice League didn't need to spoon-feed us exposition for every member of the League. Aquaman's connections to Atlantis could've easily been saved for his solo movie, and the introduction to The Flash (Ezra Miller) only really needed to show us his connection to the Speed Force. In fact, Alfred (Jeremy Irons) specifically mentions that Henry Allen (Billy Crudup) is in prison before we see Barry go to visit him in Iron Heights, so there's even a case to be made that the Flashpoint setup (regardless of how emotionally compelling it is) takes up vital Justice League real estate that could have gone toward developing Steppenwolf (Ciaran Hinds) as a villain.
However, it's not just a matter of clunky storytelling. Justice League puts a lot of plot threads on the table (such as the tease of the Green Lantern Corps and the setup of The Flash: Flashpoint), and this film is what made me realize how many storylines DC has used in some form or another since Man of Steel. In the span of five movies, the DCEU has loosely adapted elements of The Killing Joke, Justice League: Origin, A Death in the Family, The Death of Superman, The Dark Knight Returns, and Superman: Earth One -- just to name a few.
DC is burning through this material in an apparent attempt to satisfy fans, but these moments aren't paying off because things are being rushed. For starters, the respect shared between Batman (Ben Affleck) and Superman (Henry Cavill) in Justice League arguably feels forced because we've only seen one movie of them absolutely hating each other. Beyond that, the insistence of loosely adapting The Dark Knight Returns in the franchise's second film has put the DCEU in a tight spot of dealing with a Batman who is far older than any other member of the League. This is years worth of storytelling that could've easily taken up several "phases" of DC films, but the studio has rushed through it with less-than-satisfactory results.
Finally, and perhaps most obviously, DC needs to slow down the production of its movies to make sure that it can offer up a presentable product to audiences. One of the most uniformly despised aspects of Justice League is the film's shoddy VFX work (particularly Henry Cavill's CGI upper-lip), and many of those issues could've been avoided if the team behind the film had been allowed to work longer. DC fans have waited decades to see a Justice League movie on the big screen, and as much as it would've sucked to see Justice League delayed, pushing the film to summer 2018 and allowing Joss Whedon more time to finish it could've let the folks at Warner Bros. add that superhero sheen that we've come to expect from the genre.
Justice League is now in theaters; if you haven't seen it yet then make sure to take a look at our review of the film, as well as our To 3D guide to figure out the best ticket for your hard-earned money. As for the next year of big screen releases, check out our 2017 movie premiere guide and our 2018 movie premiere guide to see what's coming in the world of movies!
This poll is no longer available.
Your Daily Blend of Entertainment News
Originally from Connecticut, Conner grew up in San Diego and graduated from Chapman University in 2014. He now lives in Los Angeles working in and around the entertainment industry and can mostly be found binging horror movies and chugging coffee.