Will Star Wars Really Let Rey Shift To The Dark Side?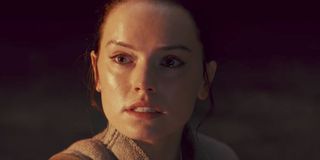 After months of anticipation, the full theatrical trailer for Star Wars: The Last Jedi finally debuted online, and it did not disappoint. It had everything: Skywalker family drama, badass sci-fi action, and some significant intrigue about the futures of some of our favorite characters. On that last note, the finale of this fantastic piece of marketing has us asking one critical question: is Rey (still no last name given) going to shift her allegiance to the Dark Side? It sounds crazy, but we're really starting to think about it as a possibility.
Seduction by the Dark Side of The Force is nothing new in the realm of a Star Wars movie. Anakin Skywalker notably succumbed to it during his time as a Jedi Knight during the prequel trilogy, and Luke Skywalker successfully staved off that same seduction in the original trilogy. Now, it looks like a similar arc has begun to play out for Rey in the new trilogy, with Snoke appealing to her desire for meaning and belonging as a way to make her fulfill her supposed destiny. From the footage that we have seen in this new trailer, he could potentially prove successful in that endeavor.
Theories have already circulated suggesting that Rey's quick mastery of the ancient Jedi practice in The Force Awakens was because she used the Dark Side (as Yoda put it, it's faster and easier). Rey's expedited Force mastery -- coupled with Luke's concern for taking her on as an apprentice -- could send her down the path that leads her to Snoke. This idea becomes even more appealing and intriguing when we consider the fact that The Force could potentially remain in balance even if Rey falls victim to Snoke's allure. Kylo Ren has thus far been depicted as a far more conflicted character than a traditional Sith lord in the Star Wars universe, and it's not hard to imagine that the dissatisfaction that he felt after murdering Han Solo could potentially hint at signs of redemption for him.
After all, the look on his face when his gets General Leia in his sights is not the same cold and calculated demeanor we see when he takes on other foes. He's still conflicted about his family, and his Light Side is showing through in the same way that Rey's Dark Side has started to do the same.
The way The Last Jedi has begun to eschew traditional Star Wars tropes, it seems to make quite a bit of sense. Sure, The Force Awakens received some criticisms for echoing many beats from previous Star Wars movies, but Rian Johnson's upcoming fantasy epic appears to be deviating from some tried and true ideas that have come to characterize the franchise. For its newest hero to fall victim to Snoke and The First Order would not only definitively establish the credibility of their threat, but it would also tell Star Wars fans that all bets are off and anything can happen in this new take on the Star Wars universe.
Check out the full trailer for The Last Jedi below to see everything that this action-packed preview has to offer!
Rian Johnson's Star Wars: The Last Jedi will blast its way into theaters later this year on December 15, 2017. Make sure to mark your calendars for this highly-anticipated installment in the Star Wars saga, and let us know what think you of this trailer in the comments below!
This poll is no longer available.
Your Daily Blend of Entertainment News
Originally from Connecticut, Conner grew up in San Diego and graduated from Chapman University in 2014. He now lives in Los Angeles working in and around the entertainment industry and can mostly be found binging horror movies and chugging coffee.