Watch Jodie Foster Reprise Her Silence Of The Lambs Character On The Late Show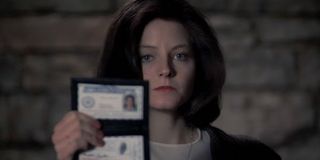 Jodie Foster has assembled quite the resume after more than four decades of acting, but one of the roles she's still best remembered for is Clarice Starling in Silence of the Lambs. As a fresh FBI recruit, Clarice matched wits with the psychotic Dr. Hannibal Lecter to secure his help in finding the serial killer Buffalo Bill. It's been nearly three decades since Silence of the Lambs made a splash in theaters, and Foster has reprised Clarice to interrogate Lecter again. Only instead of Anthony Hopkins being the one behind bars (so to speak), this time it's Stephen Colbert channeling the cannibalistic madman.
A lot has changed since 1990, when Clarice Starling and Hannibal Lecter first crossed paths. So for this new "first" meeting, rather than turn to Lecter for assistance on the Buffalo Bill case, Clarice has instead come to him on behalf of Robert Mueller, the man currently overseeing the investigation into Russia's interference in the 2016 presidential election. The beginning of this scene plays out similarly to what happened in Silence of the Lambs, with Clarice showing Lecter her credentials, only this time he also sees her Sam's Club card, which she has for buying lotion. (I see what they did there!) From there, this "scene" delved into Clarice trying to retrieve information about President Donald Trump. Colbert does an effective job of blending Lecter's creepiness with current events surrounding the president, such as claiming that the two of them were golfing buddies, and that one time, they turned a caddy into a taco bowl. In the end, we find out that Clarice would rather join Lecter in his cell rather than keep struggling through everyday life. Fortunately for her, she still has both of her kidneys.
Jodie Foster recently stopped by The Late Show with Stephen Colbert to plug the Black Mirror episode she directed, but given the political climate, it's not surprising that the show's host convinced the actress to take part in this sketch. Although this is the first time Foster has played Clarice Starling since Silence of the Lambs, that wasn't the last appearance of the character. For the 2001 sequel Hannibal, Julianne Moore inherited the role. There were also plans to include Clarice in later seasons of the Hannibal TV series on NBC, but the show was cancelled in 2015 after three seasons.
Jodie Foster hasn't appeared on the big screen since 2013's Elysium, but she'll be back up there for the upcoming Hotel Artemis. You can also check out her directorial work in the Black Mirror episode "ArkAngel," which drops on Netflix with the rest of Season 4 on December 29. For those of you wondering what movies will arrive next year, check out our 2018 premiere guide.
Your Daily Blend of Entertainment News
Connoisseur of Marvel, DC, Star Wars, John Wick, MonsterVerse and Doctor Who lore. He's aware he looks like Harry Potter and Clark Kent.
Your Daily Blend of Entertainment News
Thank you for signing up to CinemaBlend. You will receive a verification email shortly.
There was a problem. Please refresh the page and try again.